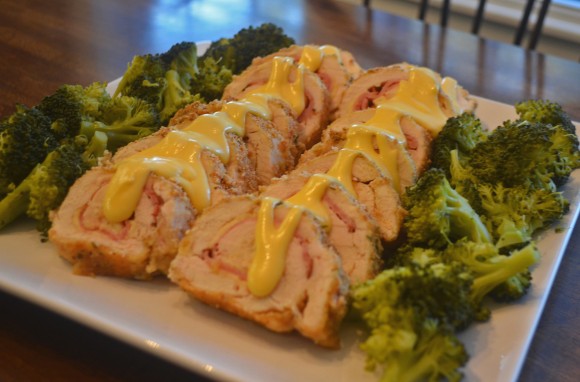 As I type this classic recipe, I am reminded of what 52 Sunday Dinners is all about.  Each Sunday one of my wonderful grandkids serves as "Junior Chef" for the afternoon.  At the time of this writing, I have 10 grandkids and one more on the way!  They all love to cook and even more importantly, I love to spend the time with them one-on-one.  This Sunday was spearheaded by my third grandson who was very proud of his creation and left with three disks of Chicken Cordon Bleu in a plastic container to add to his school lunchbox for Monday's lunch!
Don't let the fancy French name fool you.  It is actually an American dish.  Yes, Cordon Bleu means "Blue Ribbon" in French and is the name of a famous cooking school, but Chicken Cordon Bleu is an American creation.  Give this one a try.
Ingredients
6 Each – Fresh (not frozen) Boneless Skinless Chicken Breasts
1/2 Teaspoon – Salt
1/2 Teaspoon – Ground Black Pepper
1/4 Teaspoon – Nutmeg
1 Tablespoon – Dijon Mustard
12 Slices – Swiss Cheese
12 Slices – Smoked Ham or Deli Ham
1 Cup – All Purpose Flour
2 Each – Large Eggs
2 Cups – Breadcrumbs
1 Teaspoon – Italian Seasoning
1 Teaspoon – Garlic Powder
3 Tablespoons – Stick Butter
Preparation
Preheat oven at 375 degrees.
Cut chicken breasts using a butterfly technique.
Wrap the bottom and top of the chicken breasts with plastic wrap.  Pound breasts using the flat side of a mallet until they are a uniform 1/4″ thick.
As always, clean-up raw chicken work areas using a strong anti-bacterial cleaner. 
Sprinkle each chicken breast with salt, pepper and nutmeg.
Spread a thin layer of Dijon mustard on each breast.
Add a layer of Swiss cheese and ham.
Roll into a tight roll and secure with toothpicks. 
Prepare a dredge station.  First cover rolls with flour, then whipped eggs, and then a mixture of breadcrumbs, Italian seasoning and garlic powder. 
Place on a baking pan lined with heavy duty foil wrap.
Add 3 tablespoons of butter to the bottom of the pan.  This will sizzle onto the breadcrumbs and will give them a nice tone.
You may see other recipes that require frying before baking.  Frying is not necessary if you use a little butter or spray on a light mist of olive oil.
Cook for approximately 45 minutes or until the internal temperature is 175 degrees.
Remove the toothpicks and slice into 1/2″ slices.
You may top this with any creamy cheese sauce.  This was prepared with a sauce of butter, flour, heavy cream, cheddar cheese and Parmesan cheese.
Feeds 8 adults and a bunch of screaming grandkids including one that is particularly proud of his hammer techniques and the beautiful outcome.