Many meals are centered around the meat or main entree. If you add this fresh salad to almost any beef, chicken, pork or fish dish, the salad will be the STAR! See this Pork Chop Dinner using this recipe.  I can guarantee that no matter how much of this Avocado Salad you prepare, your family will consume it ALL and love it.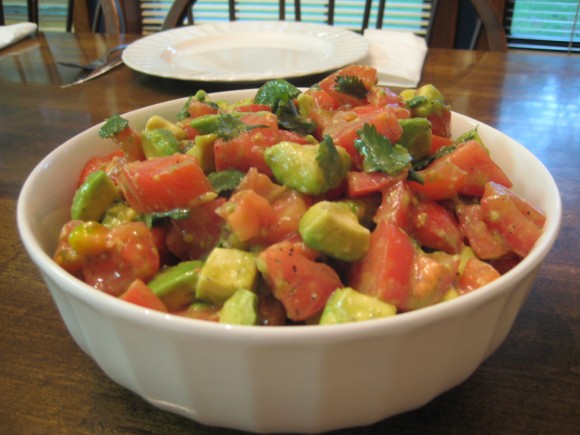 This light Southwestern treat is served at our home whenever it complements the main dish.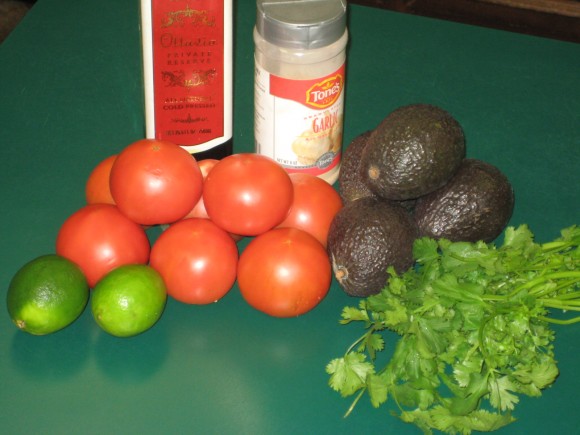 Ingredients
8 Small Tomatoes, diced
1 or 2 Medium Limes, juiced
3/4 Cup Cilantro, chopped
4 Medium/Large Avocados, diced
1.5  Tablespoons of Olive Oil
1 Teaspoon of Garlic Powder, or 1 Clove of Fresh Garlic
2 teaspoons Salt and
1 Teaspoon of Pepper
Preparation
Chop ingredients. Season to taste. Chill, covered in the refrigerator for 4-24 hours before serving. If you plan to refrigerate in the longer time frame, cut the Avocados just prior to serving.
You may substitute 1 clove of minced garlic for the Garlic Powder, at a rate of 1 clove per 8 servings.
Just thinking about that garlic, cilantro and lime makes my mouth water!
Serves 8 adults.