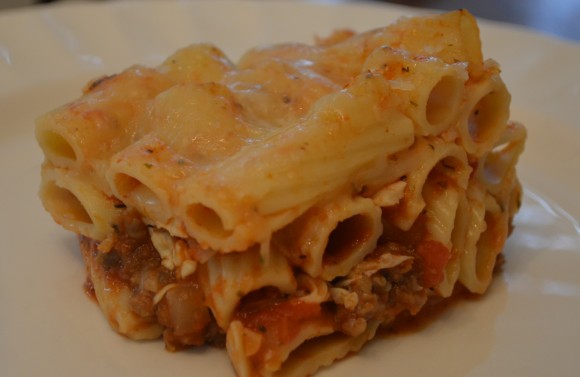 The inspiration for this Sunday Dinner comes from my Syrian dad, not my Italian mother.  Dad has been cooking variations of this dish to rave reviews.  This is my try at it.  You will find this meal easy to prepare and your family will love it.
Ingredients
1 Pound – Rigatoni Pasta
1.25 Pounds –  Italian Sausage
1 Each – Medium Onion, diced
4 Cloves – Garlic, minced
1 Each – 14 oz. Can of Diced Tomatoes
1 Each – 24 oz. Can of Tomato Sauce, or Pasta Sauce
1 Tablespoon – Extra Virgin Olive Oil
2 Teaspoons – Italian Seasoning, such as Dean & Jacobs Sicilian Blend Italian Seasoning, finely ground
1 Pound – Mozzarella Cheese, freshly grated
1 Teaspoon – Salt
1 Teaspoon – Pepper
3 oz. – Fresh Parmesan Cheese, grated fine
Preparation
Prepare the 1 pound package of Rigatoni pasta per the package instructions.  The Rigatoni pasta has nice grooves for hosting tasty sauce and seasoning.
As the pasta is boiling to al dente, cook the sausage in a large skillet over medium heat.  Drain off the excess oil.
After cooking the sausage, wipe the oily skillet and saute the onions in the tablespoon of extra virgin olive oil.  As they become clear add the garlic, salt pepper and Italian seasoning.
Then add the sausage to the onions, along with the diced tomatoes and pasta sauce.
Place the pasta in a large 11″ x 14″ casserole pan.  
Then add the sausage and sauce mixture and combine in the casserole pan until all of the pasta is coated with your delicious sausage and sauce mixture.
Cover with the Mozzarella cheese. 
Cover the pan with foil and place in a the oven for 25 minutes at 350 degrees.
Remove the foil.  Add the Parmesan cheese and cook for an additional 5 minutes. 
Top with some Italian parsley and serve with some additional Parmesan cheese at the table.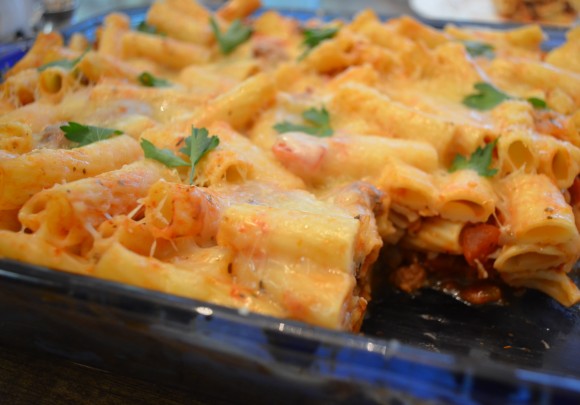 Serves 6 to 8 adults plus a bunch of hungry kids.  Only one of the kids will pick out the onions. LK!