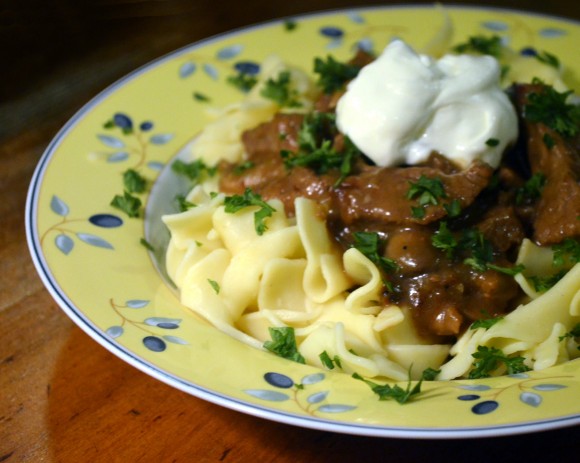 If you are looking for an elegant meal to prepare for your family that will be hearty and delicious … this is it!  This is a favorite dish that will taste even better than you remember it.  There are no prepackaged mixes or red and white labeled soup cans, just natural ingredients.  This is Beef Stroganoff the way it was intended to be cooked.
Preparing this meal was special because ALL the cooking was done by my oldest grandson.  He is 12 year old.  I became the coach and he did all the cooking.
Stroganoff Ingredients
4-5 Pound – Beef Roast, either chuck roast or arm roast
2 Tablespoons – Extra Virgin Olive Oil
2 Teaspoons – Salt
1 Teaspoon – Ground Black Pepper
3 Tablespoons – Stick Butter
1 Each – Large Onion, diced
12 Ounces – White Mushrooms, sliced
4 Cloves – Garlic, minced
1/4 Cup – Flour
3/4 Cup – White Wine
4 Cups – Beef Broth
1/2 Cup – Fresh Parsley Leaves (optional)
1/2 Cup – Sour Cream – (optional)
Egg Noodle Ingredients
16 Ounces –  Dried Egg Noodles, wide noodles are preferred
1 Teaspoon – Salt
2 Tablespoons – Stick Butter
Preparation
Cut roast into slices and then again into strips so the meat is similar to fajita strips, about 3/8″.
Brown the meat on high (or nearly high) heat in a large deep skillet in the 2 tablespoons of extra virgin olive oil, along with the salt and pepper.  Initially it will produce liquids that will boil off. Then the heat of the skillet will produce a nice char.  You will need to turn the meat often to prevent burning.
Remove the meat. Leave the flavored remains in the skillet.  Add the butter, onions, mushrooms and garlic.  Cook over low/medium  heat until the onions become clear.
When the onions are clear add the flour and stir until the onions and mushrooms are coated with flour.
Add the white wine and beef broth.  Bring to a slow boil.
Return the meat to the deep skillet and cook covered under a lid for approximately 70 minutes, or until meat is very tender, but not falling apart.
As the beef is cooking, prepare the noodles according the the package instructions.  Otherwise boil the noodles in a large saucepan of water along the 1 tablespoon of butter and 1 teaspoon of salt. After they become soft, drain the noodles and add 1 teaspoon of butter to the hot noodles to prevent them from sticking and to provide some buttery goodness!
Stack the stroganoff mixture over noodles.  Serve with a garnish of sour cream and parsley, if desired.
Don't plan on having any left overs.  Your family will eat until it's gone!
Serves 6 adults and a bunch of kids.  In this case one kid left with an extra large smile on his face for preparing his first meal.