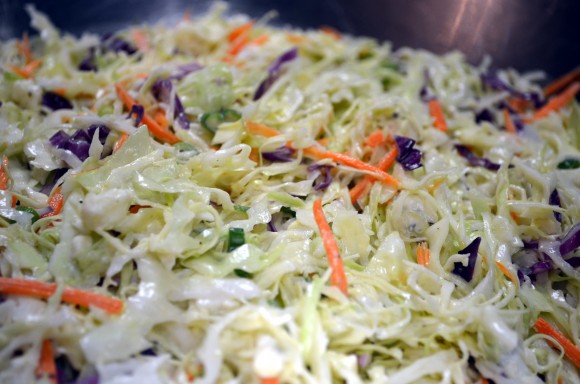 My good friend David Smith returned from a short road-trip to Plano, Texas.  He had lunch at Lockhart Smokehouse.  The barbeque there is award winning and famous, but it was the Blue Cheese Slaw he couldn't stop talking about.  This is not exactly like Lockhart's slaw, which is spiked with jalapenos.  Mine is milder and would be a better fit for the youngsters in your family.  Your whole family will LOVE IT!
Ingredients
1 Head – Green Cabbage, shaved on a mandolin as thin as possible.
1/8 Head – Red Cabbage, shaved on a mandolin
2 Each – Carrots, julienned
5 ounces – Blue Cheese (approximately 1 cup)
2 Teaspoons – Salt
1/2 Teaspoon – Black Pepper
1/2 Teaspoon – Celery Seed
3 Each – Green Onions, thinly sliced
1/2 Cup – Mayonnaise
1/2 Each – Lemon, juiced
Preparation
Use a LARGE mixing bowl to blend all the ingredients.  My mixing bowl is 13″ x 4 1/2″ deep.
Use a fork, your hands or a grandkids hands to combine the ingredients.  They'll be eager to help.
Add additional seasoning and mayonnaise if required. 
Slaw may be prepared the night before but don't count on having any left over!