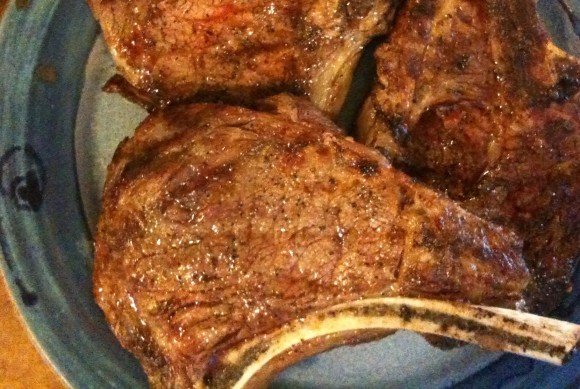 Have you ever said, " I could cook for the whole family if someone would just PLAN the meal"?  Well I'll make it easy for you.  Try beef ribeye steaks with the bone in.  They are easy to prepare and very juicy.  Ribeyes are marbled with the right amount of fat to ensure your steaks are mouth watering good.
Note: The ribeyes above are on a platter crafted by my good friend David Hendley of Old Farmhouse Pottery.  The platter is 13″ in diameter, making these rather large steaks look average in size.
Ingredients:
5 Pounds – Bone-in Ribeye Steaks, cut 1″ Thick.
Salt
Garlic Pepper Seasoning
Preparation:
Heat your gas or charcoal grill to 375 degrees.
Season liberally with salt and garlic pepper seasoning.
Cook steaks to your liking.  Medium-well will require about 20 minutes on each side.
Sides: Baked Potatoes, a Simple Salad & French Bread
Add baked potatoes, baked in the oven, not the microwave.  I learned this lesson from our church chef, Terry Sawyer.  Whenever Terry served baked potatoes several people would ask her, "How did you make those delicious baked potatoes and how did you get them so tender?"  Her answer was that she BAKES them.  After the first few baked potato questions she realized that her baked potatoes were being compared with everyone's MICROWAVED potatoes.   For your special family dinners, spend the extra 3 minutes and wrap your potatoes in foil and throw them in the oven for 1 1/2 hours at 375 degrees.
Add a salad from THIS CATEGORY such as the Fresh Garden Salad.
Serves 8 adults and a bunch little guys that of want-to-be men.