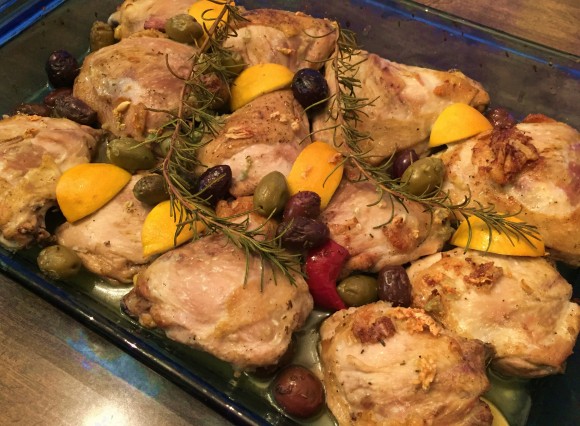 If you are looking for something different for Sunday dinner this week, give this exciting dish a try.  The combination of flavors produced from the lemon, juice, olives and brine, white wine, rosemary and garlic is incredible!  The flavors are complex, but preparation is very easy.  Your family will LOVE it.
Ingredients
1 Tablespoon – Extra virgin Olive Oil
12 Each – Fresh Chicken Thighs, with skin and bones
2 Teaspoons – Salt
2 Teaspoons – Black Pepper
5 Cloves – Fresh Garlic, minced
2 Each – Small Lemons, quartered and juiced
30 Each – Greek Olives, use a variety of green and black olives with pits
2 Sprigs – Fresh Rosemary
1/4 Cup – White Wine
Preparation
Preheat oven to 375 degrees.
Add a generous portion of salt and pepper to the chicken thighs.
Seer chicken thighs in a medium-hot skillet in the olive oil in a large skillet.  Seer first on the skin side, then on the bone side.
12 thighs will take two cycles with approximately 5-10 minutes on each side.
Place thighs in a large casserole pan.
Add 1 cup of liquid produced from the skillet
Add 1/4 cup of white wine.
Add the garlic, lemons and olives. 
Bake uncovered for approximately 45 – 55 minutes until chicken is tender to the fork.
Feeds 8 adults and a bunch of young kids that asked, "Why did Papa put twigs on the chicken?"
Tip: I began with a 10 pound bag of leg quarters. That equaled 12 thighs and 12 legs.   I removed the "drumsticks" and prepared them on the gas grill for the young children.  Everyone had exactly what they wanted, and there were only a couple of pieces left over.
Thanks to singer Lucy Kaplansky for the recipe tip and Amanda Jones for the rosemary.