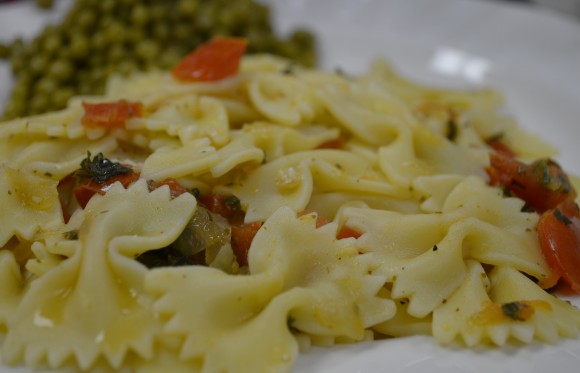 So this Sunday is more hectic than normal and you don't want to spend it in the kitchen, even though you enjoy cooking.  Plan this 30 minute meal with ingredients you probably already have in your pantry and refrigerator.  Feel free to add or take away ingredients, based on what you have available, and your personal taste.  Consider this a guide.
Ingredients
16 Ounces – Dry Pasta (Bowtie, Penne, Spaghetti or Fettuccine)
2 Tablespoons – Extra Virgin Olive Oil
1 Teaspoon – Salt
1 Large – Onion (any color), chopped small
2 Cloves – Fresh Garlic, minced
3 Large – Tomatoes – Chopped to 1/4″
1/2 Cup – Fresh Parsley, chopped
1 Teaspoon – Italian Seasoning (I prefer Dean& Jacobs)
Optional Ingredient – Fresh basi)
Optional Ingredient – Chopped zucchini or yellow squash
Preparation
Boil your pasta water in a large saucepan or Dutch oven.
Add 1/2 of the olive oil and 1/2 of the salt to the pasta.
When the water comes to a boil add your pasta, lower the heat to a simmer, and cook until al dente.
Saute the chopped onion and garlic in the extra virgin olive oil in a large skillet over medium heat.
When onions become clear, add the salt, seasoning, tomatoes and parsley.
Drain pasta.
Combine cooked pasta noodles and vegetable mixture in a large serving dish.
Top with Fresh Parmesan Cheese, add an easy vegetable from your pantry, some fresh bread and you will be ready to eat in 30 minutes!  Take that, Rachael!
This meal serves 8 adults and several kids that won't know you spent the entire afternoon in your recliner watching sports, until 30 minutes before they arrived!