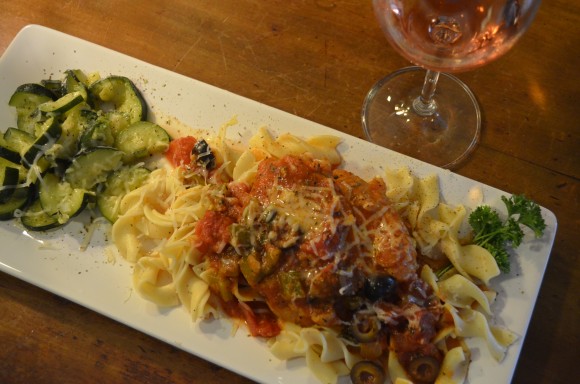 Chicken Cacciatore is the perfect combination of elegant and rustic.  Cacciatore literally means "hunter style" in Italian.  This dish, however, can be as elegant as you wish.  It is PACKED with flavor. Preparation is easy.
Ingredients
10 – Fresh Chicken Thighs with Skin and Bones
5 Tablespoons – Extra Virgin Olive Oil
3/4 Cup –  All Purpose Flour
2 Each – Medium Onions, Chopped
2 Each – Bell Peppers
6 Cloves – Fresh Garlic, Minced
2 Teaspoons – Salt
2 Teaspoons –  Pepper
2 Teaspoons – Italian Seasoning
2 Teaspoons – Fresh or Dry Basil
1 Cup – Red Wine
2 Each – 28 Ounce Cans of Diced Tomatoes with Juice
1 Each – 14 Ounce Can of Tomato Sauce
1.5 Cups –  Chicken Broth
1 Cup –  Fresh Parsley, Lightly Chopped
3 Ounces –  Parmesan Cheese, Freshly Grated
[Optional Ingredients]
6 Ounces – Pitted Black Olives
2 Ounces –  Capers
Preparation
This recipe requires two large (12″+) skillets. Split the ingredients between the two skillets.
Add flour to shallow pan or plate.  Coat chicken thighs with all purpose flour.
Add extra virgin olive oil to each skillet. Heat to medium-high.
Cook chicken until it is seared on each side.
Remove chicken and place to the side while other ingredients are prepared.
Saute onions in the oil.
Add bell peppers.
Then add garlic, salt, pepper, Italian seasoning, basil, chicken broth, wine and diced tomatoes.
Simmer for 30 minutes.
Add chicken, tomato sauce and optional tomatoes and capers.
Simmer for 45 more minutes.
Add parsley and simmer for an additional 10 minutes.
Chicken is done when it can be removed from the bone with very little effort.
Egg Noodles
Prepare Egg Noodles according to package instructions. Two 12 ounce package are required.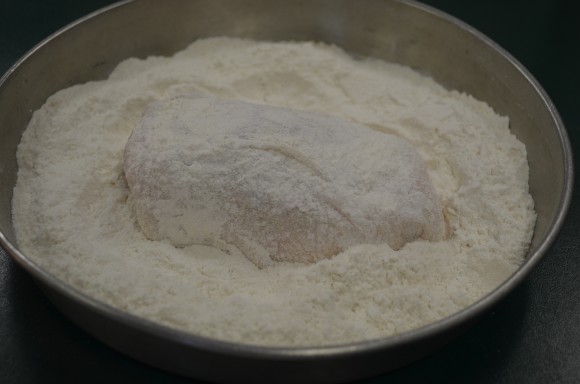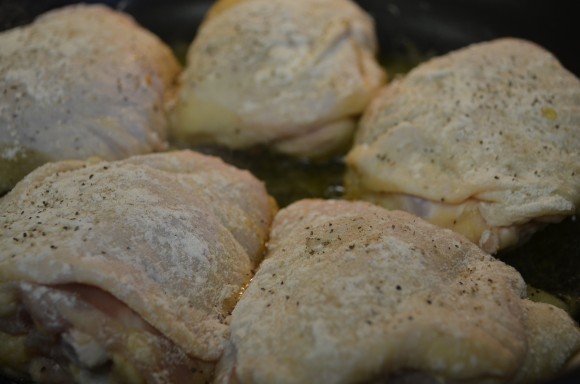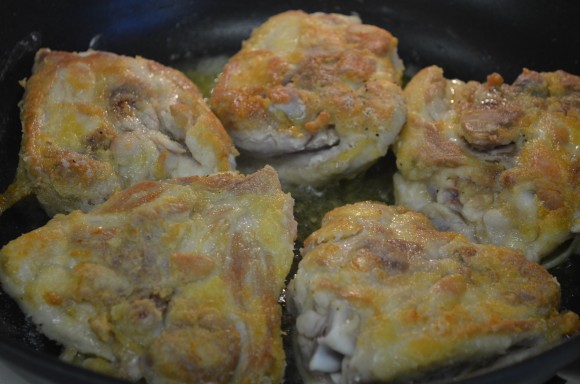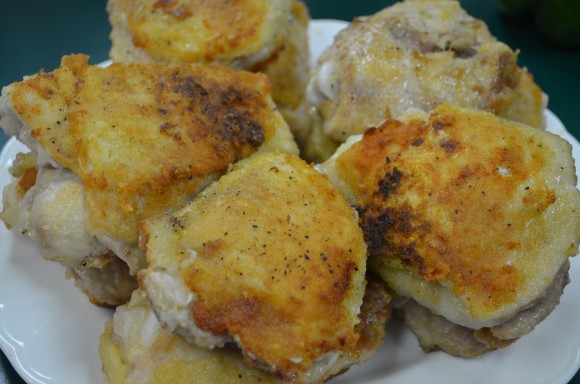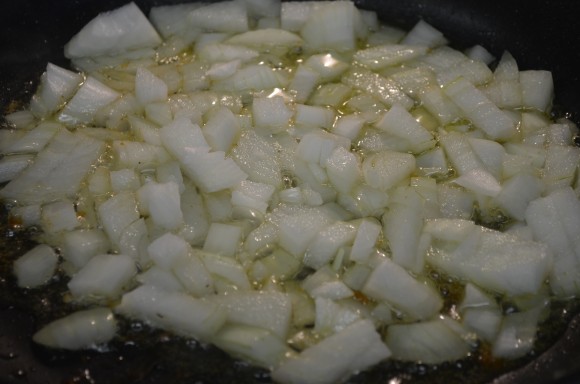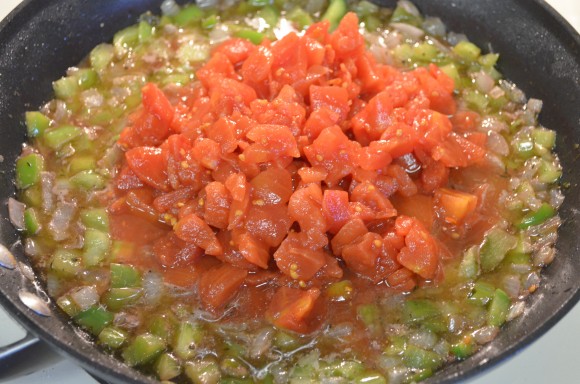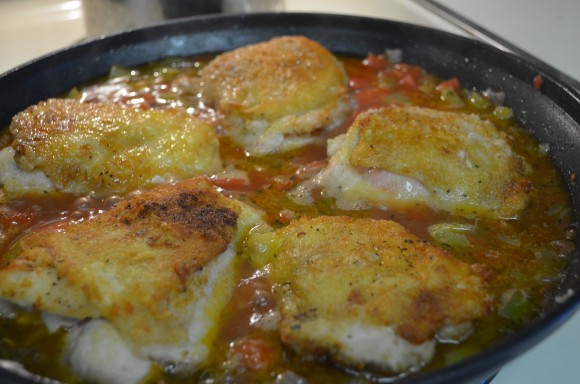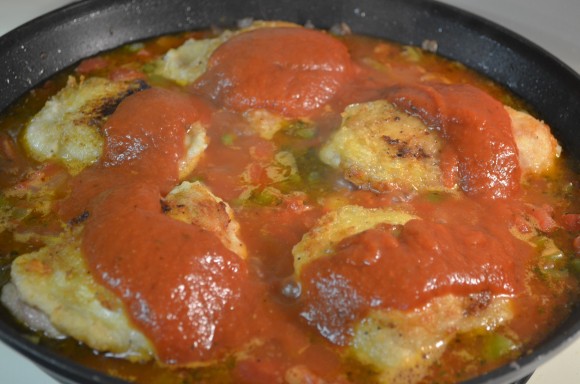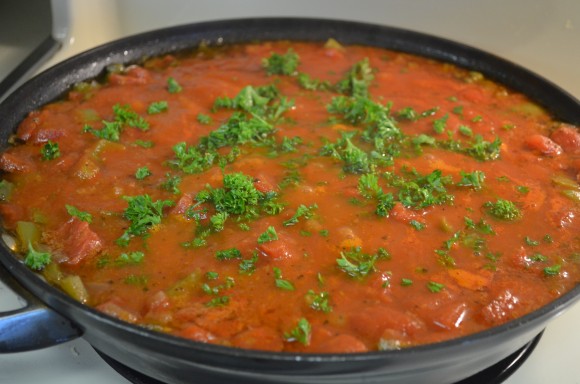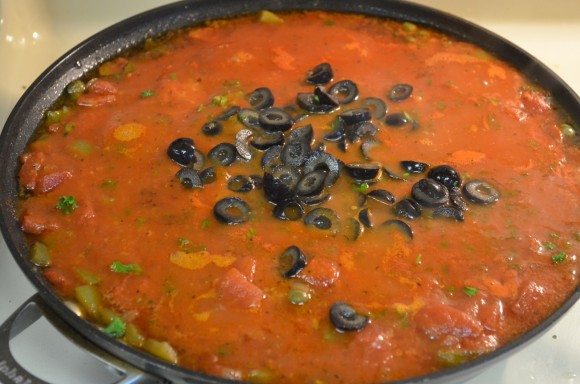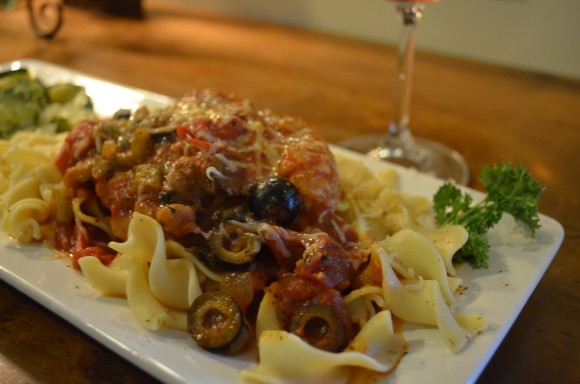 Serves 8 adults and a bunch of non-hunting kids.
Recommended Sides
Italian zucchini, garlic bread.