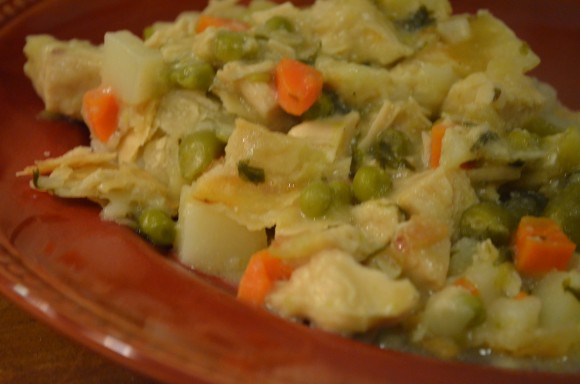 An American classic, like Momma used to make.  When you hear the words CHICKEN POT PIE I hope you don't immediately think of the mass produced, factory prepared in a tin foil pie pan and flash frozen kind.  If you do, you're in for a real treat.  52SundayDinners.com is all about fresh ingredients, preparation and love for your family.  Your family deserve the best.  Preparation is a little labor intensive, but it's well worth it.
Ingredients for Filling
4.5 Pounds – Fresh Skinless, Boneless Chicken Breasts, cubed into 1/2″ cubes
5 Ribs – Celery, Chopped
1 Each –  Large Onion, Chopped
1 Each –  Bay Leaf
1 Tablespoon – Salt
1 Teaspoon – Finely Ground Black Pepper
1/2 Teaspoon Rosemary or Italian Seasoning
2 Tablespoons – Extra Virgin Olive Oil
1/4 Cup – 1/2 Stick Butter
1 Cup – Water
1 1/2 Cup – all-Purpose Flour
10 Ounces – English Peas, fresh or frozen
5 Each – Carrots, sliced
1 Tablespoon – Worcestershire Sauce
4 Each – Small Potatoes, Cubed to 3/4″
1/2 Cup –  Fresh Parsley
Pastry Ingredients
4.5 Cups – All Purpose Flour
3 Sticks – Butter (1.5 Cups)
1.5 Teaspoons – Salt
1/2 Cup –  Cold Water
Preparation
A. Prepare for Pastry
Allow butter to warm to room temperature
Combine butter, flour and salt, using a pastry blender in a mixing bowl.  A pastry blender is a tool with a handle and 5-7 curved metal blades.
Add only the amount of cold water needed to make the mixture hold together when pushed lightly with a fork.
Wrap the pastry mixture in cellophane wrap and store in a cool place as you prepare the filling
B. Prepare for Filling
Sear chicken in extra virgin olive oil in a large Dutch oven.
Add onions, continue to cook until onions become clear.
Add the flour to the cold water in a mixing bowl and stir.
Add flour and water mixture to the Dutch oven.
Add the remaining filling ingredients, except for the potatoes and parsley.
Cook on medium heat until the carrots and celery become tender.
Add the potatoes and parsley and cook until the potatoes are almost tender, approximately 20 minutes.
Remove from heat, allow to partially cool and prepare for filling the pastry.
c. Assembly
Divide your pastry into 3 parts.  The mixture should produce enough filling for three 9″ x 13″ casseroles.
Roll the pastry onto a flour covered surface until it is large enough to serves as a top or bottom. If your pastry will not stretch this far, you may eliminate the bottoms use your pastry for the tops only.
Grease the casserole pans with butter.
If you are able to roll the pastry into thin sections you may include pastry bottom layers.  If so, then place three of the pastry portions in casseroles. See images below, I only covered the tops.
Fill with pie filling.
Brush the lower pastry rim (if using bottoms) with water to create a bond between bottom and top layers of pastry.  Egg wash will also work fine.
Place the top pastry and perforate it in several areas with a fork to allow air to vent from the pie.
Bake at 350 degrees for 30 minutes covered with foil to prevent burning
Remove foil and cook for an additional 20 minutes until pastry is golden brown.
Cool and serve.
Feeds 10 adults and a house full of kids, with a little something for everyone.