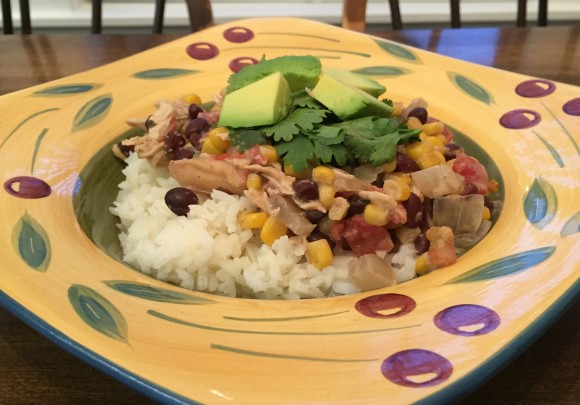 Hold on to your Southwestern hat.  This tasty creation will have your family going back for second helpings and even third helpings!  I call it Dave's Two Two Crock Pot Chicken because it is literally two cans of this and two cans of that, etc.  Throw it in your crock pot and forget about it for about 6 hours.
Ingredients
Two Each – Medium Onions – Chopped
Two Chickens – Breast Only (OK technically that's four (4) boneless skinless fresh chicken breasts, but it doesn't fit here as well)
Two Cans –  Whole Kernel Corn, with liquid
Two Cans – Black Beans, rinsed and drained
Two Cans – Ro-Tel® Tomatoes
Two Teaspoons – Salt
Two Tablespoons – Ground Cumin Powder
Two Packages – Ranch Dressing Dry Mix
Two Teaspoons – Chili Powder
Two Teaspoons – Onion Powder
Two Each – 4oz. Package of Philadelphia Cream Cheese (or one 8oz. package)
Two Cups – Fresh Cilantro
Optional
Two Each – Small Avocados
Two Cups of Rice along with the associated 4 cups of water, 2 teaspoon of salt and two tablespoons of butter
Preparation
Place the four chicken breasts and the onion in your large crock pot.
Add all the other ingredients on top except the cilantro, cream cheese and avocados.
Cook on your Automatic setting for approximately 6 hours.  If you are monitoring your Dave's Two Two Crock Pot Chicken, you can start your crock pot on High for 30 minutes or and hour, and then switch to Automatic after it begins to boil.
After the chicken begins to break up easily with a fork, add the cream cheese, then cook for an extra 3o minutes, stirring occasionally to break up the chicken and incorporate the cheese into all ingredients.
Just before you are ready to serve, add 1 of the 2 cups of cilantro.  Use the other cup of cilantro as desired at the table, or use it as a garnish.
This meal is great over white rice.  You'll love how the rice soaks up the flavorful juices of the Dave's Two Two Cock Pot Chicken.  Cook the rice according to the package instructions, or cook the ingredients in a covered saucepan for 23 minutes on low/simmer after the water and rice mixture begins to boil.  Don't peek or check on it.  The steam is critical to delicious rice.
Top with fresh avocado if desired.
Serves 8 adults and a bunch of grandkids that will all hug your neck at the end of the night!