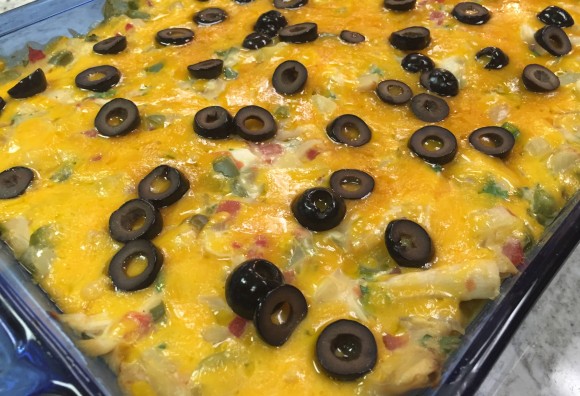 Everyone loves an easy Sunday Dinner that includes bubbling cheesy goodness.  This version of the traditional King Ranch Chicken has a few extras such as cilantro and black olives.  Your family will love it!  The basic framework for this recipe is tried and true and you can count on it producing excellent results every time.
Ingredients
1 Each – Large Onion, finely chopped
1 Each – Green Bell Pepper, finely chopped
1 Each – Yellow Bell Pepper, finely chopped
2 Tablespoons – Extra Virgin Olive Oil
2 Pounds – Cooked Chicken, broken into small pieces.  1/2 of a rotisserie chicken works perfectly
1 Can – Cream of Celery Soup, Campbell's 10.75 oz.
1 Can – Cream of Chicken Soup, Campbell's 10.75 oz.
1 Can – Diced Tomatoes and Green Chili Peppers, such as Rotel's 10 oz. can
1/2 Bunch – Fresh Cilantro Leaves, lightly chopped
1/2 Teaspoon Chili Powder
1/2 Teaspoon – salt
1/4 Teaspoon – Garlic Powder (or two cloves of fresh garlic, minced)
1/4 Teaspoon – Ground Black Pepper
12 – 15 Each – 6″ corn Tortillas, quartered
3 Cups – Hand Shredded Cheddar Cheese
1 Cup – Black Olives, sliced
Preparation
Quarter the corn tortillas.  This is a good exercise for a young chef with a dull Big Bird knife. 
Saute the onions and bell peppers in the olive oil in a large skillet until the onions become almost clear. 
Combine the onion/bell pepper mix with the rest of the ingredients, except for the tortillas, olives and cheese in a large mixing bowl.
Grease a 9″ x 13″ casserole pan
Lay a layer of tortillas on the bottom of the pan (1/3 of the tortillas)
Cover with 1/3 of the mixture
Cover with 1/3 of the cheese
Repeat steps 5, 6 & 7 two more times until the ingredients are all placed in the pan.
Top with black olives.
Cook at 350 degrees for 20 minutes covered with foil.
Remove the foil and cook for an additional 25 minutes.
Feeds 8 adults and a bunch of grandkids that will think onions are strong and will pick them out of their serving.