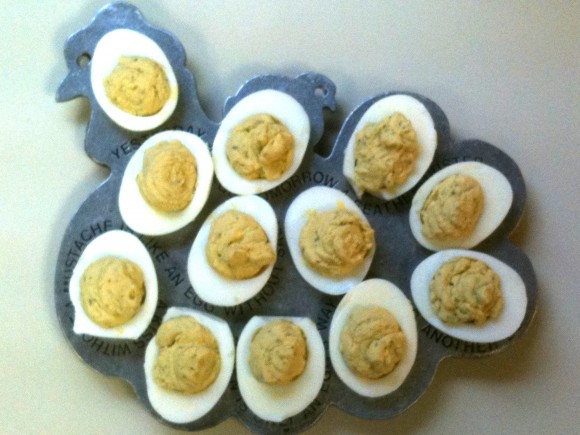 OK, so this is not the "manliest" recipe posted on 52SundayDinners.com.  If you want barbeque ribs, steak and man-food.  We have that, too.  This simple appetizer, however, will kick-start your meal off to a good start.
Ingredients:
6 Each – Eggs
3 Tablespoons – Mayonaise
2 Teaspoons –  Mustard
1/4 Teaspoon – Lee & Perrin's Worcestershore Sauce
1/2 Teaspoon – Salt
1/4 teaspoon –  Fine Ground Black Pepper
Preparation
Boil eggs until they are hard-boiled.  See note at the bottom of this post for instructions on perfect boiled eggs.
Cut eggs in half, removing yokes
Add yokes to the balance of the ingredients and mix with a fork in a mixing bowl to blend thoroughly.
Place mixture in a sandwich-sized zip-lock bag and clip one lower corner.
Squeeze the mixture into the eggs.
Cover and refrigerate until dinner.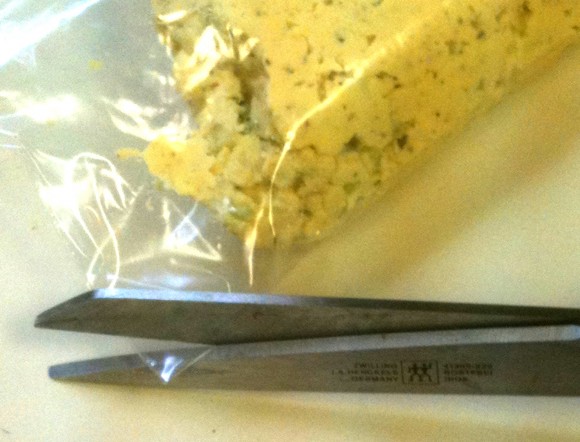 Double the recipe for a hungry bunch, or have them longing for more.
Note: The Worcestershore Sauce has a brown pigment that (when combined with the eggs) will produce a green pigment.  The flavor of the Worcestershore Sauce, however,  is worth the odd looking eggs.
Perfect Boiled Eggs
Place eggs in saucepan of COLD water.  Water should cover eggs at least 1″.  Boil over HIGH heat.
Once boiling, reduce heat to a medium boil and cook an additional ten minutes.
Remove from stovetop and place eggs under ice cold water for a few minutes until egg are completely cool.