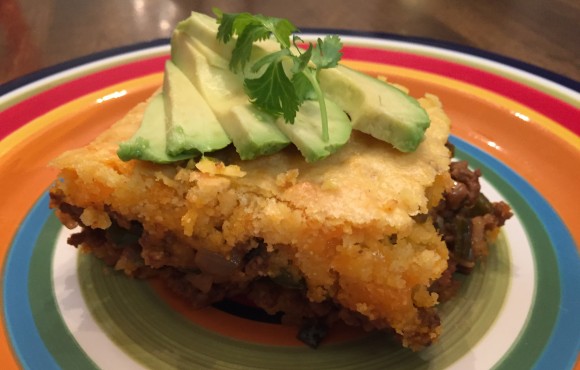 Hot Tamale Pie.  Hot Tamale Pie. If I don't get some, I think I'm gonna die!  OK, that tune is for Alligator Pie, but if you keep reciting the Alligator Pie tune it will remind you to go the the grocery store and pick up the few ingredients you will need to provide a great southwestern meal for you and your family this Sunday.
There are many variations of this recipe on the web.  This is my favorite one with a little twist.  This recipe is very forgiving and you can add different ingredients to the filling to suit your family's taste.
Ingredients
1 Teaspoon – Vegetable Oil
2 Pounds – 80/20 Ground Beef
2 Each – Large Poblano peppers, Chopped fine
1 Each – Medium Onion, Chopped
1.5 Teaspoons – Salt
2 Teaspoons – Taco Seasoning
16 Ounces – Salsa, Medium Heat
1/2 Teaspoon – Dried Oregano
2 Boxes – Jiffy Brand Cornbread Muffin Mix, 8.5 oz each
2 Each – Large Eggs
1 1/3 Cups – Milk
10 Ounces – Cheddar Cheese, shredded
Optional Meat Mixture Ingredients: Whole Kernel Corn, Cut Black Olives, Jalapeno Peppers, Chipotle Seasoning.
Optional Toppings: Cilantro, Sour Cream, Avocado Slices
Preparation
Brown the ground beef in a large skillet over medium heat until it is all brown, not red.
Add onions, peppers seasoning and continue to cook in the skillet until the onions start to become clear.
Add the salsa.
Incorporate all the ingredients into a meat mixture. 
Pre-heat the oven to 350 degrees.
Coat the inside of a 9″ x 13″ casserole pan with the vegetable oil.
Mix the first box on corn bread mix with 2/3 cup of milk and one egg.  Combine with a whisk.  Solicit a little bunny help if you need it.
Spread the first box of cornbread mix on the bottom of the 9″ x 13″pan.
Add the meat mixture as the second layer.
Top with 6 ounces of cheddar cheese.
Mix the second box on corn bread mix with 2/3 cup of milk, one egg and the remaining cheddar cheese.  Combine with a whisk.
Place it as the top layer above the meat mixture and cheese.
Cook for approximately 45 to 55 minutes at 350 degrees until golden brown.
Cut into squares to serve.
Serve with chips, salsa and guacamole.
This meal feeds 6 adults and a bunch of Texas born grandkids.