Cauliflower is often steamed in a medley of carrots and broccoli.  My mother, Mama Sara, cooks a great cauliflower casserole.  It has heavy cream, butter, cheese, etc.  I tried it one time and it was over a zillion calories.  Yum!
This is a simple side dish to cook when you are tired of rice or potatoes as a white vegetable.  It is much lighter than Mama Sara's version.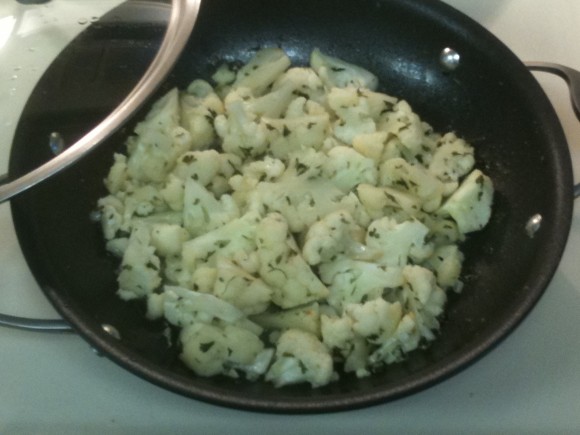 Ingredients
1/2 – Cauliflower cut into bite-sized pieces
1 Tablespoon – Butter
1/2 Teaspoon – Mrs. Dash (Original Flavor)
1 Tablespoon – Parsley, dry or fresh
1/4 teaspoon – Salt
2 Tablespoons – Water
Preparation
Combine ingredients. Cover and cook on low heat for 30 minutes, stirring occasionally to prevent scorching. If necessary, replenish water during cooking, and do not overcook.
"Side" Notes
This simple veggie will add a nice touch to chicken or beef.  You may substitute Extra Virgin Olive Oil and Italian Seasoning for equal amounts of Butter and Mrs. Dash for an Italian version.
Serves as a side dish for 4