Prepare this super easy meal in 5 minutes before Sunday church and you will have the afternoon off.  It is SO easy and delicious.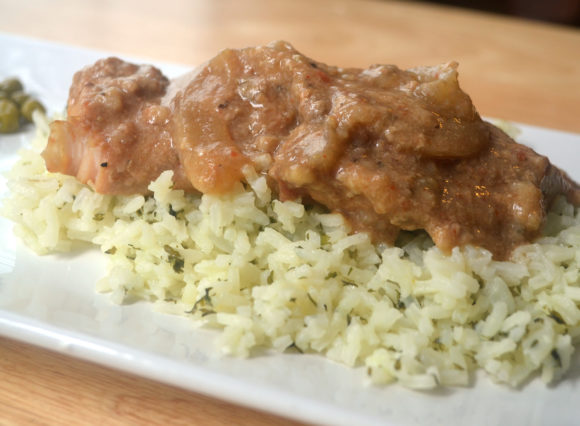 Ingredients
5 Pounds – Boneless Pork Chops, sliced to approximately 1/2″ thick
1 Each – Large  Onion sliced into 1/2″ rings
1/3 Cup – Lea & Perrins Worcestershire Sauce
1/3 Cup – Catsup
1 Cup – Water
2/3 Cup – All Purpose Flour
2 Teaspoons – Salt
2 Teaspoons – Ground Pepper
6 Cloves – Garlic, minced
1/2 Teaspoon – Chili Powder
Preparation
Use a 5 or 6 quart electric crock pot with an AUTO setting.  When it gets hot it modulates to a medium heat setting automatically.
Add all ingredients other than the pork chops and onions into your crock pot.  Stir to combine ingredients.
Drop in onions and pork chops, cover and turn crock pot to AUTO.
Go to church! Visit friends afterwords. Come home in time to make a pot of rice and a green side dish, and sit down to a lovely Sunday Dinner!  Turn off the crock pot just before the pork chops break apart and turn to something else.  They should be very tender, but not breaking apart after 10-12 hours of cooking.
Feeds 6 adults and a bunch of kids that didn't know you were cooking dinner while the whole family was at the water park.