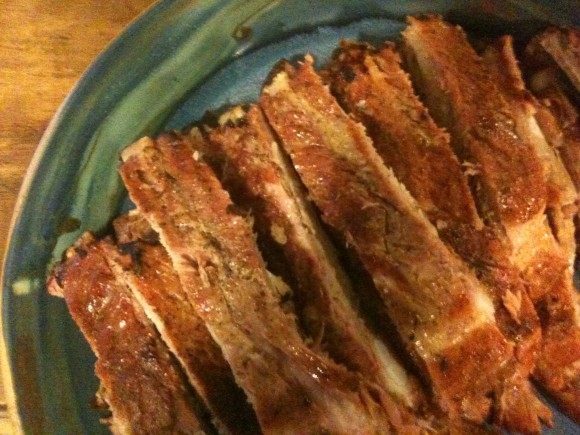 Throw out everything you have heard about mesquite wood, monster smokers, generational seasoning secrets locked in a safe deposit box, etc.  Just use this simple technique I borrowed from my dad.  These pork ribs will melt in your mouth, and they are Sooooooo easy to prepare.
Ingredients
10 Pounds –  Pork ribs
Seasoning
Preparation
Liberally season your pork ribs to you own taste.  A heavy rub is not needed.  If you do not have a favorite, use a combination of Morton's Nature's Seasoning and Tony Chachere's Spices N' Herb Seasoning.
Cook on your gas or charcoal grill at 350 degrees, just as you would cook pork chops.  Brown each side.  This will take approximately 1 hour.  Check each side after 20 minutes.
Place on large oven pan or cookie sheet with a rim large enough to catch additional juices.   Cover with heavy duty foil.
Cook for an additional 2 hours in your oven at 350 degrees.
Use your sharpest knife to separate the ribs, otherwise the meat will separate from the bone, when you attempt to cut them.
Add sides such as potato salad or baked potatoes, grilled squash and a salad.
Feeds 8 adults and a bunch of lip-smacking grandkids.