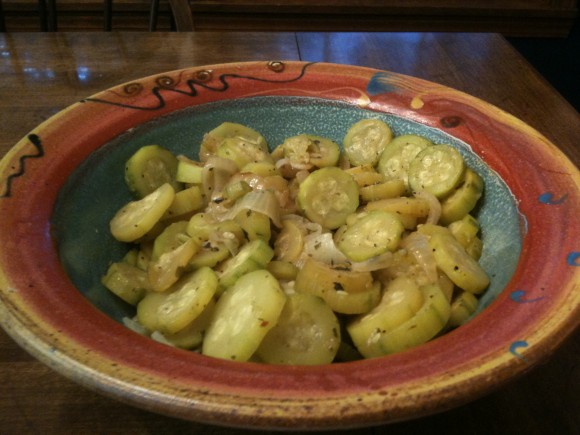 If you spend any time at all dining with our family, you are likely going to get a good dose of Zucchini, or Italian Squash.  We often grill it outside, combine it with Yellow Squash or Cucuzza.  Sometimes we like it cooked simply by itself. It will have a very mild taste with a little extra sweetness from the onions.
You can't miss with this Sherman Family Favorite.
Ingredients
8 – Small Zucchini Squash, Sliced into 1/4″ sections.
1 – Small Mild Onion, White or Yellow, Sliced
1 Tablespoon – Extra Virgin Olive Oil
1 Tablespoon – Italian Seasoning.  See Seasoning Tip HERE.
1 Teaspoon – Salt
1 tablespoons – Dried or Fresh Parsley, chopped fine
2 Cloves – Garlic, Minced
Preparation
Place onions, extra virgin olive oil and seasoning in a large skillet.  Saute for 5 minutes on medium-low hear.
Add the remainder of the ingredients.
Cover and cook on medium-low heat until zucchini is tender, which will be approximately 30 minutes.
Serves 8 adults as a side dish.