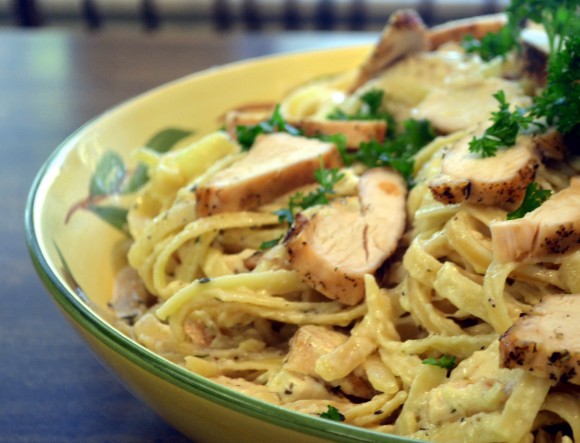 This in one of those recipes that should be in your family's regular rotation.  It should be a staple.  It is quick and easy to prepare and all age groups will love it.  There is a fair amount of butter and cream in it, and is sometimes called "Heart attack on a plate" so don't overdo it!
Ingredients
16 Ounces – Dry Fettuccine Pasta Noodles
3 Each – Fresh (not frozen) Skinless Boneless Chicken Breasts
1.5 Sticks – Butter
3 Cups – Heavy Cream
2.5 Cups – Romano Cheese, freshly grated (You may substitute Parmesan Cheese or Parmigiano-Reggiano Cheese)
2 Teaspoons – Salt
1 Teaspoon – Black Pepper
1 Teaspoon – Italian Seasoning
1/2  Teaspoon – Ground Nutmeg
3 Cloves – Fresh Garlic, minced
1 Each – Egg Yoke
Optional Ingredients
Preparation
Cook the three chicken breast either by broiling them in the oven, or by grilling them on a gas or charcoal grill.  You may also cook them in a skillet, if you prefer.  The images in this recipe used chicken that was grilled on an outdoor grill.
Boil water for your fettuccine noodles in a large Dutch oven or saucepan according to the package instructions.
In a large skillet, melt the butter over medium heat.  As the butter begins to sizzle and releases a nutty aroma, add the cream and stir.
While stirring with a whisk, slowly add the grated cheese and egg yoke.
Add the salt, pepper, Italian seasoning, garlic and nutmeg.
Drain the noodles when they are Al Dente and add them to the sauce and incorporate all that cheesy goodness around the noodles.
Serve in a large serving bowl.
Slice the chicken into thin strips and add the chicken into the mixture or place it on top.
Garnish with parsley or strips of fresh basil.
Feeds 6 adults and a bunch of half-breed Italian grandkids.