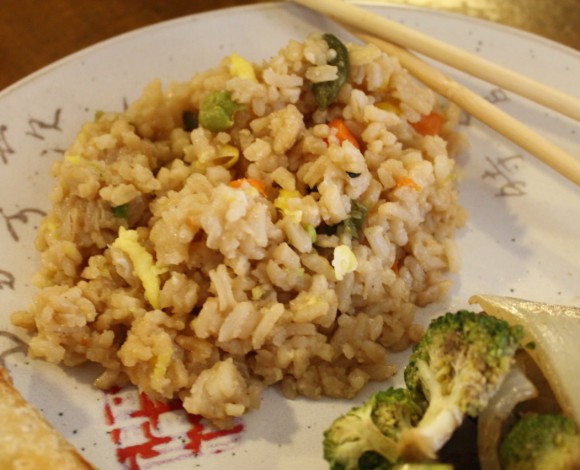 Every Asian meal at our home is accompanied by Fried Rice.  My wife Teresa has been cooking this staple for years and takes over the task of preparing the rice.
Ingredients
2 Cups –  Long Grain White Rice
4 Cups – Water
2 Teaspoons – Salt
4 Ounces – Frozen Packaged Vegetable Mix with Carrots, English Peas, Green Beans and Corn
1/4 Cup – Soy Sauce
2 Eggs
3 Tablespoons – Vegetable Oil
Optional – 1 Cup of Thick Bean Sprouts
Preparation
If time allows, Cook the rice the night before and refrigerate.  Do this by boiling the 4 cups of water, adding the salt and the rice.  Cover and simmer on warm/low for 22 minutes.  Refrigerate.
Thaw the packaged vegetables and cook in the oil in a large wok until they become tender, about 6 minutes.
Add the rice & soy sauce.
Thoroughly mix with two wooden paddles or wooden spoons until the rice has absorbed the oil & soy sauce and the vegetables are integrated into the rice.
Clear an area in the bottom of the wok and add the eggs.  Scramble.
Continue to mix and add sprouts and any other ingredient such as cubed pork, that you want to enhance your fried rice.
Add salt if needed, but remember that the soy sauce will add a salty flavor.
Works as a side dish for 8 – 10 adults.