Our family LOVES Fried Zucchini.  There was once a local East Texas restaurant, J.W. Finn's, that had a variety of eclectic menu choices.  Their fried zucchini was the best.  It was served as an appetizer, and no matter how much you ordered, it would seem to not be enough!  This baked version of the classic fried zucchini will have the same effect on your family.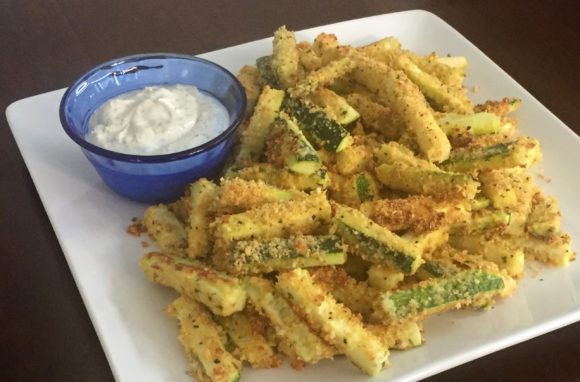 Ingredients
6 Each – Medium Italian Zucchini Squash, sliced into strips – You may substitute or mix with yellow squash
1 Cup – Parmesan Cheese, grated
1 Cup – Panko Bread Crumbs
1 Teaspoon – Italian Seasoning
1 Teaspoon – Granulated Garlic Powder
1 Teaspoon – Salt
1 Teaspoon – Pepper
2 Each – Large Eggs
Preparation
Preheat oven to 425 degrees
Wash zucchini.  Do not peel them.  Trim the ends from the zucchini, cut into pieces approximately 2″ long and slice into large french fry sized strips.  I prefer to use a chopper similar to the Prepworks jumbo potato cutter using the large blades.  The grandkids call it the "Papa-choppa"
Discard any very small slivers.
Mix eggs in a dredging bowl.
Mix the remaining dry ingredients in a bowl.
Prepare to pass the zucchini through the eggs and into the dry mix. Use one hand for the egg bowl and the other hand for the breadcrumb mixture.  Place on a baking sheet covered in parchment paper.
Bake for 425 degrees for 20 minutes,  Turning is not required. 
Serve with ranch or dill flavored dressing as a dip.
Enjoy!