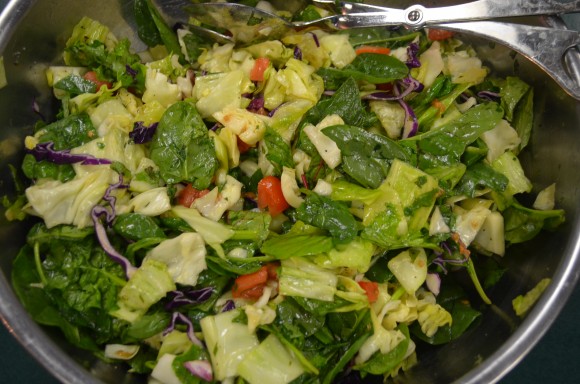 I LOVE salads and this Greek Cabbage Salad with Spinach and Mint is a great addition to almost any dinner.  It will work especially good with beef or lamb, but don't be afraid to have it support chicken, fish or even burgers!
Preparation is very easy.  There is plenty of room for experimenting with different quantities and ingredients.
Ingredients
1 Medium Head – Green Cabbage chopped into approximately 1″ pieces
1/2 Pound – Baby Spinach
1 Each – Cucumber
2 Each –  Shallots, sliced thin
2 Each – Large Tomatoes (OK, I added one after I took the glamor shot)
1/2 Cup –  Purple Cabbage, shaved thin on a mandolin
1 Each –  Large Lemon, juiced
1 Cup – Fresh Mint Leaves, chopped fine
3 Tablespoons –  Extra Virgin Olive Oil
2 Teaspoons –  Salt
2 Teaspoons – Finely Ground Pepper
Preparation
Combine ingredients and serve immediately or refrigerate up to 24 hours.
Work for a strong mint flavor.  Add more mint, lemon juice or olive oil if needed.
Optional Ingredients
Fennel Root
Carrots
Celery