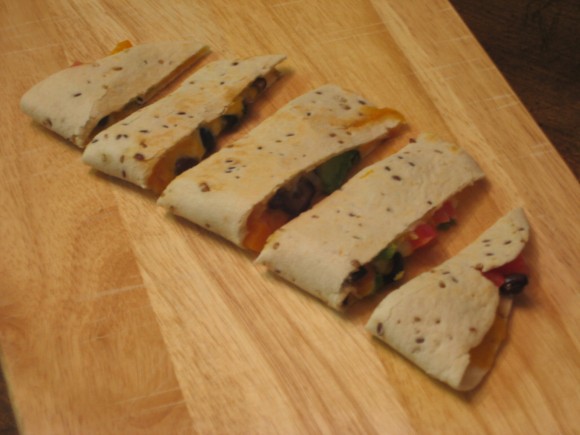 Part of the fun of meeting for Family Dinners is to allow "hands-on" participation by everyone.  Quesadillas offer an excellent opportunity for everyone to become engaged in the cooking process, even the two year old grandchildren.
Ingredients
Consider this ingredient list a list of  suggestions.  You may use alternate ingredients, based on your family taste.
12 Large Whole Grain Flour Tortillas

5* Small Flour Tortillas (adjust the quantity for the quantity of children)

2 Cups – Chopped Bell Pepper, green, yellow, red or orange.

2 Cups – Finely Chopped Onions

1 Cup – Cilantro Leaves

2 Cups – Finely Chopped Tomatoes, drained

2 Cups – Sliced Pickled Jalapenos

4 Cups – Grated Cheddar Cheese

2 Cups – Sliced Black Olives

3 Avocados – Finely Chopped

1 Tablespoon – Butter
1 Cup –  Your Favorite Salsa
1/2 Tablespoon – Extra Virgin Olive Oil (Optional)
Preparation
If your family does not like fresh onions, saute the onions in 1/2 Tablespoon of Olive Oil before beginning, until they are clear.
Let the games begin. Let each guest/family member make his or her own Quesadilla.
The secret is the Cheese.  Use a liberal amount.  It helps bind the Quesadilla together and taste great, too.
If you use large Flour Tortillas, you can place 4 folded Quesadillas on a large griddle at a time.  Cook on medium setting.  Cook for 4 minutes/side, or until Flour Tortilla BEGINS to discolor.
Slice and serve.
Feeds eight (8) adults and a bunch of hungry kids.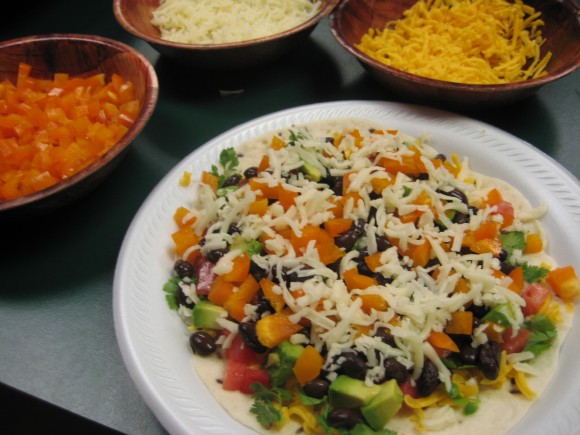 Comments
The kids also enjoy making the Nachos.  At this Sunday Dinner we used blue corn chips.  It did not make a pretty picture, but the kids thought it made it a little more fun.  See smiles!
Let us know your comments and don't forget to share us on Facebook.  If you don't, Pancho will come to your house, cook Quesadillas for you, and mess up your kitchen!