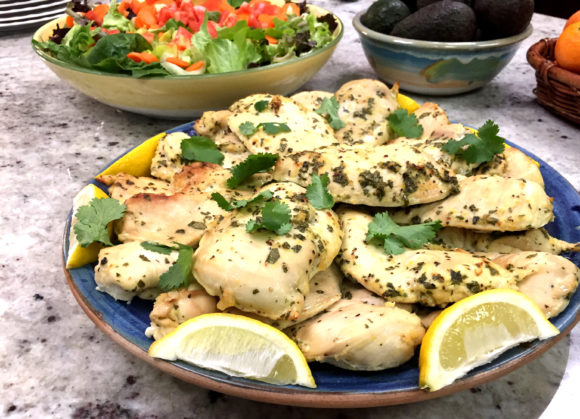 If you are a fan of the comedy series Everybody Loves Raymond, you'll remember in one of the first episodes Debra served Raymond Lemon Chicken on their first date.  He loved it and and said, "I could eat this for the rest of my life!"  Little did he know that Lemon Chicken was the only thing Debra knew how to cook.  If you only learn how to cook one thing, Lemon Chicken is a pretty good item.  This Lemon Chicken recipe adds the dimension of Cilantro to the marinate and it is fantastic!
Ingredients
5-6 Pounds – Skinless Boneless Chicken Breasts, never frozen
4 Each – Lemons
1 Cup – Fresh Cilantro Leaves, chopped
1/2 Cup – Extra Virgin Olive Oil
2 Teaspoons – Salt
1 Teaspoon – Ground Black Pepper
1 Teaspoon – Crushed Red Pepper Flakes
Cilantro and Lemon as a garnish
Instructions
Butterfly chicken breasts to produce thinner sections of chicken.
Mix all ingredients, except for the garnish ingredients in a large bowl or gallon zipper bag. Use the zest and the juice from the lemons.
Combine the marinade ingredients with chicken breasts and marinade in the refrigerator for 2 to 20 hours.
Place chicken breasts on two large greased baking sheets covered in aluminum foil wrap.
Bake in a preheated oven for approximately 40-60 minutes at 350 degrees.
During the cooking process the chicken will have an unappetizing grey color.  Don't worry. Cook until the edges of the chicken breasts begin to brown with the balance being a light golden color.
Garnish with fresh cilantro and lemon.
Serves 12 adults and a bunch of kids that will proudly show their empty plates at the end of the night.