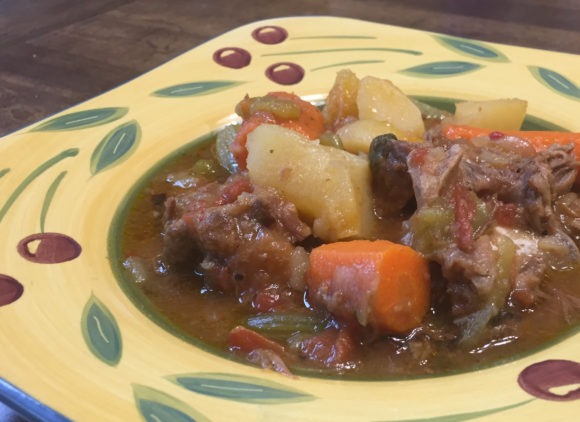 Oxtail Stew is considered a delicacy in many countries such as Italy and Germany, but is also considered genuine "Soul Food" in the Southern States. It is very easy to prepare and is packed with flavor.
The term Oxtail originally referred to the tail of an ox or steer.  Now it simply means the tail of cattle. OK, I have to confess that two of my family members threatened to boycott Sunday Dinner when I told them I was serving oxtail stew.  They got a little squeamish.  They reluctantly asked what was in it.  Oxtail!  They agreed to try it and quickly became believers after tasting it.  Give it a try this Sunday, but you might want to call it "beef stew with bones."
Ingredients
4 Pounds – Sliced Oxtail
1.5 Pounds – Arm Roast or Rump Roast (optional)
2 Tablespoons – Extra Virgin Olive Oil
1 Each –  Extra Large Onion, diced
1 Stalk – Celery, rustic sliced
3 Each – 14oz. Cans of Petite Diced Tomatoes
2 Cups – Water
6 Cloves – Fresh Garlic, minced
1 Tablespoon – Salt
2 Teaspoons – Black Pepper
2 Teaspoons – Ground Cumin
3 Each – Bay Leaves
1 Cup – White Wine
10 Each – Fresh Basil Leaves, chopped (substitute dry basil if necessary)
3 Pounds – Russet or Red Potatoes, cut into 3/4″ cubes
3 Pounds – Carrots – rustic cut
1 Cup – Curly Parsley Leaves
Preparation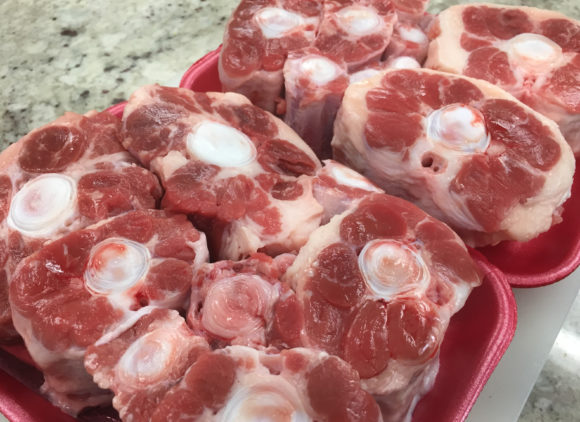 Begin by selecting an extra large Dutch Oven or pot.
If you have chosen to stretch this recipe using an arm roast or rump roast, cube it and sear it in the Dutch Oven in the two tablespoons of extra virgin olive oil.
Add the cans of Tomatoes, water and oxtails.
Bring to a strong boil and begin the prepare chopping of the other vegetables.
Add all ingredients except for the potatoes, carrots and parsley.
Cover and cook using a fast boil for 2 to 3 hours.  The meat will begin to become tender.
Add the potatoes, carrots and parsley and cook (covered) for an additional hour.  Meat should be very tender and the carrots and potatoes will be soft.
Enjoy.
It is said that the first ingredient in soul food is love, and you will taste the love in this oxtail stew.
This recipe will feed 10 adults an bunch of kids that will leave asking, "Mama will you tell us what was in Papa's dinner now?"