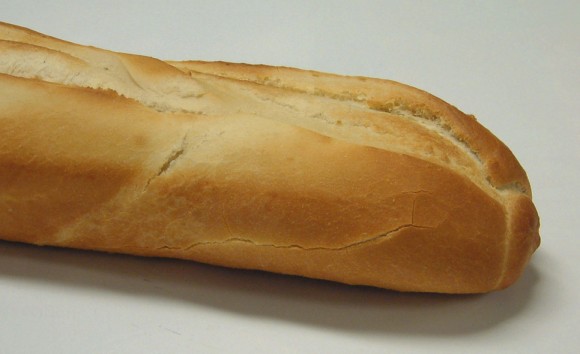 My Dad is a great cook and bread is his specialty.  His bread recipe has evolved after years of experimenting and testing.  This recipe is what he has determined to be the best tasting combination of ingredients and preparation.  He uses this same recipe, without variation, for bread, pizza dough, ornamental bread, on a cookie sheet or in a loaf pan.
Ingredients
2 Cups – Water (105 degrees – 115 degrees)
2 Teaspoons  – Active Dry Yeast (or 2 packets)
6 Cups – Better-for-Bread Flour  Flour)
1/4 Cup – Sugar
1.5 Teaspoons – Salt
2 Tablespoons – Extra Virgin Olive Oil
Ingredient Variations
You may substitute 3 Cups of Whole Wheat Flour for 3 of the cups of the Better-for-Bread Flour
You may substitute Crisco Shorting for the Extra Virgin Olive Oil
Preparation
Immediately after confirming that the 2 cups of water is within 5 degrees of the required 110 degrees, add the yeast and 1/2 teaspoon of sugar.  Mix by hand with a fork until most of the yeast is dissolved.
Add 3 cups of the flour, the balance of your sugar, and the yeast/water mixture in your KitchenAid (or other brand) mixing bowl.
Mix ingredients for 3 minutes.
Add the 1.5 teaspoons of salt, the additional 3 cups of flour, and the olive oil.
Mix at speed 1 or 2 for 8 minutes.  Monitor mixer to ensure that all ingredients are being incorporated.  Add a touch of flour or water if need, in small teaspoon sized increments, and only if needed.
Remove from mixer, kneed by hand for 2 minutes.
Place doughball in large mixing bowl, coated with olive oil.  Rotate dough ball to cover with olive oil.
Place in warm location, approximately 80 degrees, until dough doubles. This will take between 45 and 75 minutes, depending on altitude, ingredients, etc.  You may also test the dough by inserting 2 fingers into the doughball.  If it is too elastic and returns quickly, allow it to rise a little more.
Punch dough with your fist.
Kneed for 2 minutes.
Split doughball into 2, 3 or 4 parts, depending on your intended use and bread size.
Allow dough pieces to rest for approximately 12 minutes on your countertop.
Form into shape for your bread, pizza, or whatever you are making.
Brush the top with butter (loaf pan bread) or water (French bread)
Bake at 350 degrees until outside is light golden color.  This will be approximately 30 minutes for french bread.
Enjoy, and don't forget to comment below..