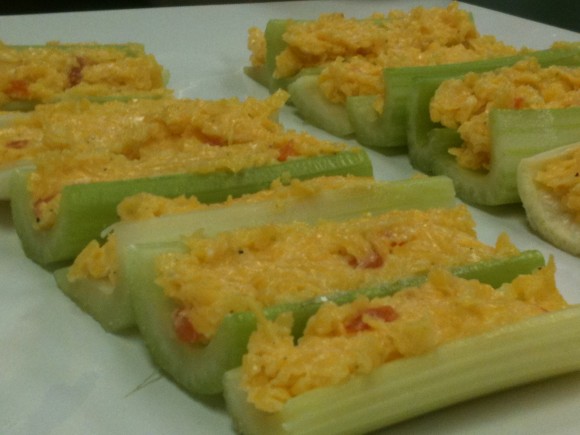 It just takes six ingredient recipe, or four ingredients if you don't count salt or pepper.  This is also a no-cook appetizer, so it would be good to engage the young chefs to help measure, mix and assemble.
Ingredients
4 Cups –  Grated Mild Cheddar Cheese, not pre-grated.
4 oz. – Pimentos
1/2 Cup – Mayonnaise
1/2 Teaspoon – Salt
1/2 Teaspoon – Pepper
1/2 Teaspoon – garlic Powder
1 Bunch – Celery
Preparation
Place all ingredients in mixing bowl and combine.  Add more Mayonnaise if needed.
Clean and prep the Celery and add Pimento Cheese Spread with the aid of a butter knife.
This is an "old-school" favorite that will remind you of the pot luck church socials, but your kids will love it too.
Also serves well on fancy crackers or as a sandwich spread.