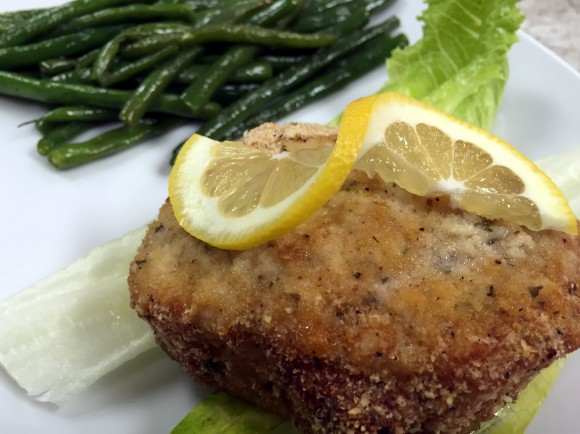 Every few weeks someone in the the family says, "That is the best Sunday Dinner ever!"  Two of my family members made that claim when I prepared this meal with my Junior Chef. These pork chops prepared with Parmesan cheese and breadcrumbs were mouth watering and delicious!
Ingredients
5 Pounds – Pork Chops, custom cut to full 1″ chops.  I cut mine from a full pork loin.
3 Each – Large Eggs
1.5 Cups – Parmesan Cheese, packaged Kraft works fine
2 Cups – Italian Breadcrumbs
1 Tablespoon – Salt
1 Tablespoon – Pepper
1 Tablespoon – Granulated Garlic
2 Each – Large Lemons
Heavy Duty Aluminum Foil
Vegetable Oil
Preparation
Trim any excess fat from the pork chops
Combine all of the dry ingredients, Parmesan cheese, breadcrumbs, salt, pepper and granulated garlic in a small shallow pan or casserole.
Cover a large cookie sheet with heavy duty aluminum foil and coat with a thin layer of oil.
Whip the three eggs in a large bowl.
Dredge the chops through the eggs, then the dry mixture, and place on the cookie sheet.
Bake for 55 minutes at 350 degrees, or until the chops are golden brown.  If you have a convection oven, leave the fan off for this meal. It will help the juices from the pork chops moisten the coating mixture.
Resist the temptation to flip them over.
Squeeze the juice from one large lemon on the chops.   Garnish with the other.
Serve on Romaine lettuce leaves.
Serves 8 adults and a bunch of young kids …. including 2 three year olds that won't stop saying, "More chicken, please!"