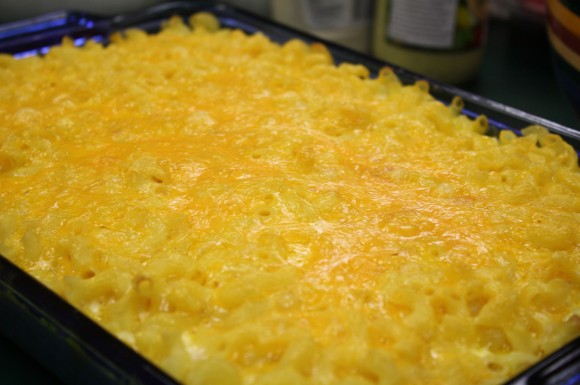 OK, you must promise us you will NEVER take home one of those blue and yellow boxes of fake Macaroni and Cheese again.  If you make this once you will clean out your pantry.  You know you have a couple of boxes in there.
Ingredients
12 Ounces – Elbow Macaroni, the smallest size available
1 Tablespoon – Butter
1.5 Pounds – Mild or Medium Cheddar Cheese – Shredded
2.25 Cups – 2% Milk
3 – Large Eggs
2 Teaspoons – Salt
1 Teaspoon – Red Pepper
Preparation
Boil water in a large saucepan almost filled.
Add butter.
When butter is melted, add macaroni and boil until macaroni is al dente.
Drain and add 1/2 of the noodles to a large glass casserole pan, approximately 10″ x 13″.  You may also use a decorative casserole pan approximately the same size.
Cover with 1/2 of the grated cheese.
Add the remaining macaroni to the casserole pan.
Mix the remaining ingredients in a mixing bowl and add to the casserole pan.
Slowly stir ingredients, but do not over mix them.
Top with the remaining cheese and cover with foil.
Cook for 25 minutes at 350 degrees.
Uncover and cook until cheese is top cheese is melted, but DO NOT burn it.  This will take approximately 8 more minutes.
Rest for 5 minutes and serve.
NOTE: Please don't buy the cheese pre-shredded.  Yes, it is easier, but it has NO taste.  If you shredded regular cheese, then used it two or three weeks later… it would either be a lump of cheese, or molded.  The processor has done something to it to make it survive on the store shelf. Don't use it.  Use the real thing.