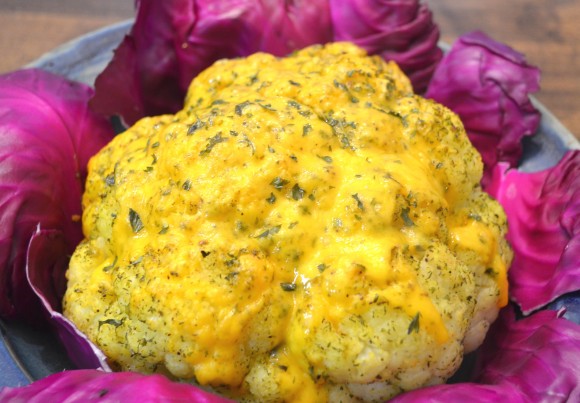 When I grew up in the Mississippi Delta, my wonderful mother often made a cauliflower casserole.  When I began to cook a few years ago, I got her to share her recipe with me.  She knew it by heart, but copied a well-worn 3″x5″ recipe card for me by hand.   I only cooked it one time.  I was afraid someone in our family would have a heart attach before they had a second helping!  It was loaded with cheese and butter and heavy cream.  It was good, very good.  But it was not very healthy.  This recipe, inspired by a post by Ann McCorkle Lester as a sensible and tasty alternative.  It should work well with beef, chicken or fish.  Give this recipe a try and let me know how it works for you.
Ingredients
1 Each  – Large Cauliflower
1 Teaspoon – Salt
2 Tablespoons – Extra Virgin Olive Oil
1 Teaspoon – Herb Seasoning such as Tammy's Herbal Rub Seasoning from John Henry.  You may follow this LINK to have it delivered to your door.
1 Cup – Sharp Cheddar Cheese, Freshly Grated
Parsley Flakes
Preparation
Remove all leaves and wash cauliflower in warm water.
Place cauliflower in saucepan and fill with water until cauliflower is covered.
Add 1 tablespoon of extra virgin olive oil and one teaspoon of salt to water and bring to a boil.
Boil for 20 minutes, or until cauliflower begins to soften. 
Remove and place head on cookie sheet or pizza pan covered in foil, for easy clean-up.
Cover with the remaining tablespoon of extra virgin olive oil, and rub into the surface.
Cover with a liberal portion of herb seasoning. 
Preheat oven at 350 degrees and cook for 15-20 minutes until crown is a golden color.
Remove, cover with sharp cheddar cheese and a few parsley flakes, and cook for an additional 5 minutes, or until cheese is fully melted. 
Cut in pie shapes and serve. 
Live a long, healthy live!