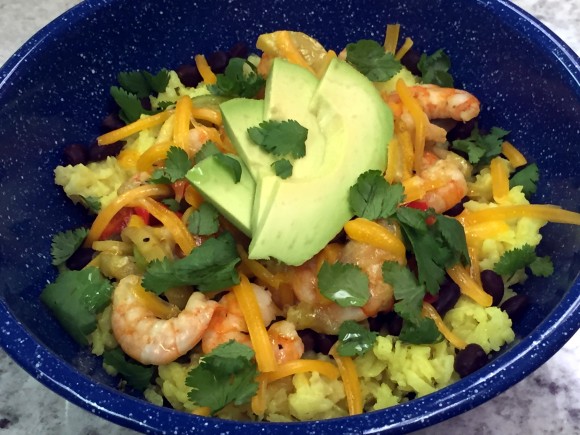 On a recent trip to Venice Beach, California, Teresa and I stepped into a sidewalk cafe/cantina to grab a quick lunch and to get off of our feet for a few minutes.  We asked the waitress for a suggestion and shortly thereafter were enjoying a Baja Bowl, similar to this one.  The flavor profile is more Southwestern than Tex-Mex and can be made as spicy as your taste buds can stand.  Give this simple recipe a try and your family will love it!
Ingredients
Spanish Rice or Yellow Rice – Beginning with 2.5 – 3 Cups of dry rice, prepared using your favorite instructions
2 Cans – 15 oz. Cans of Black Beans, drained
2 Tablespoons – Extra Virgin Olive Oil
1 Each  – Large Onion – sliced
3 Each – Small Yellow Squash, sliced
3 Each – Small Zucchini Squash, sliced
1 Each – Green Bell Pepper, sliced
8 Each –  Small Red and Yellow Peppers, sliced
3 Teaspoons – Taco Seasoning, such as Tone's Taco Seasoning
2 Teaspoons –  Salt
2 Teaspoons – Black Pepper
3 Cloves – Garlic, minced
1.5 Pounds – Fresh or Frozen Raw Shrimp, peeled
1 Each – Large Lime
3/4 Pound – Sharp Cheddar Cheese, freshly grated
1 Cup  – Fresh Cilantro Leaves
Optional 1 Each – Sliced Avocado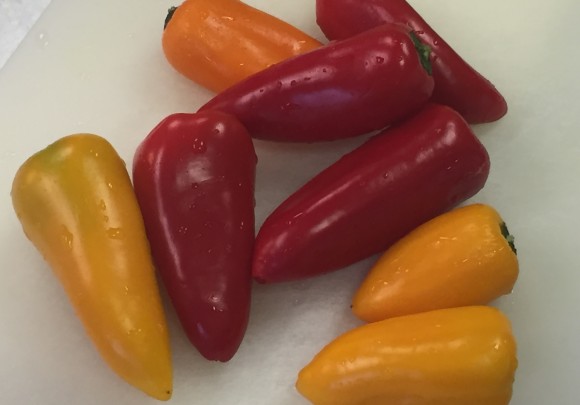 Preparation
Prepare Yellow Rice or Spanish Rice using 2.5 to 3 cups of dry rice, yielding 8-10 cups of cooked rice.
Drain black beans and steam them in a covered saucepan or skillet with a few tablespoons of water.
Saute the onions and vegetables in the 2 tablespoons of extra virgin olive oil in a large 12″ skillet, stirring occasionally.
When the onions begin to become clear, add all of the seasoning and the shrimp.
Cover the vegetable and shrimp mixture and cook 5-10 minutes until the shrimp develop that classic shrimp color.
Enjoy the fun as each family member or guest stacks rice, black beans, veggie / shrimp mixture, cheddar cheese, avocado and cilantro.
Serve with some fresh made guacamole and corn chips and you'll have a loud and fun filled Sunday Dinner.
Serves 6 adults and a bunch of kids that ask what part of the shrimp they might be eating. Really!