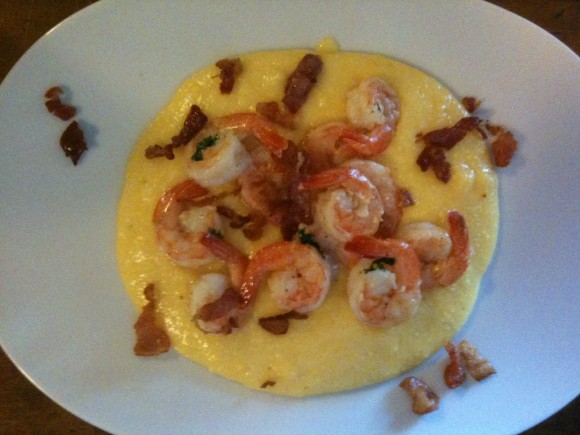 Shrimp & Grits, Shrimp & Grits, Shrimp & Grits.  It's the hot thing today.  Lucky for us, it's easy and it is VERY tasty.  This a favorite has its roots in Savannah, Georgia.  So let's take a virtual trip to the Eastern Seaboard and get started.
Shrimp Ingredients:
1.5 Pounds – Raw Shrimp, Peeled & De-veined
1 Teaspoon Salt
1/2 Teaspoon Tony Chachere's Original Creole Seasoning
1/4 Teaspoon – Black Pepper
1 Small – White or Yellow Onion, Chopped Fine
5 Cloves – Fresh Garlic, Minced
1 Tablespoon – Fresh Parsley Leaves
12 Strips – Lean Bacon, Cut into 1/4″ Cross- Strips
1 Each – Lemon, Juiced
Shrimp Preparation:
Cut bacon into 1/4 inch cross-strips and fry in large skillet.
Remove bacon. Keep bacon grease in skillet.
Add seasoning, chopped onions and minced garlic.
When onions become clear, add shrimp.
Cook on medium hear for 1 minute, until shrimp becomes the classic rich shrimp color.
Flip shrimp over and cook for an additional minute, until the color is uniformly colored.
Add parsley and lemon juice.
Stir to incorporate all the flavors.
*********************************
Grits Ingredients:
1.5 Cups –  Organic Yellow Corn Grits  (see photo below)
6 Cups – Water
1 Teaspoon  – Salt
1 Teaspoon – Concentrated Lobster Base
3 Tablespoons – Butter
1.5 Cups – Cheddar Cheese, Grated
Grits Preparation:
Bring water to a boil and add salt, lobster base, and butter.
Add dry grits while stirring rapidly.
Cook for 15 minutes or per the mill's instructions
Add crated cheddar cheese and blend into grits just prior to serving.
*********************************
Build It!
Spoon in a delicious helping of those cheesy grits.
Add a healthy helping of the shrimp with all the seasoning and goodies
Top with pieces of the chopped bacon.
Enjoy!
Feeds 8 adults and a bunch of grandkids that their Mamas thought wouldn't eat shrimp.