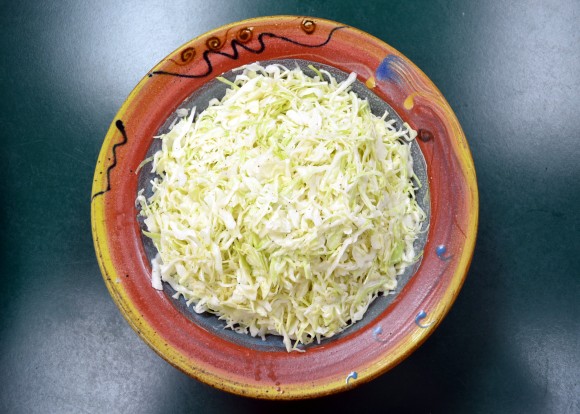 Our family loves Coleslaw.  In fact EVERY Sunday Dinner includes a tossed green salad or some type, or coleslaw.  Try this simple recipe and adjust it to your taste.
Ingredients
1 Head –  Cabbage
3/4 Cup – Mayonnaise
1/4 Teaspoon – Tony Chachere's Original Creole Seasoning
1/2 Teaspoon – Nature's Seasoning
Instructions
Remove outer leaves of cabbage
Cut cabbage into 6 pie shaped slices.
Shred cabbage into a VERY LARGE mixing bowl, using a mandolin.  Use the lowest setting available to produce very thin strips of cabbage. Be careful and do not CUT yourself here.
Work around and discard the stem.
Wash and thoroughly rinse cabbage, if desired.
Add mayonnaise and spices.
Using a fork, blend the ingredients until mayonnaise and spices cover each piece of cabbage.
"Field Test" the coleslaw and add more spice if needed
You may also add a shredded carrot for color.
Cover and chill until ready to serve.