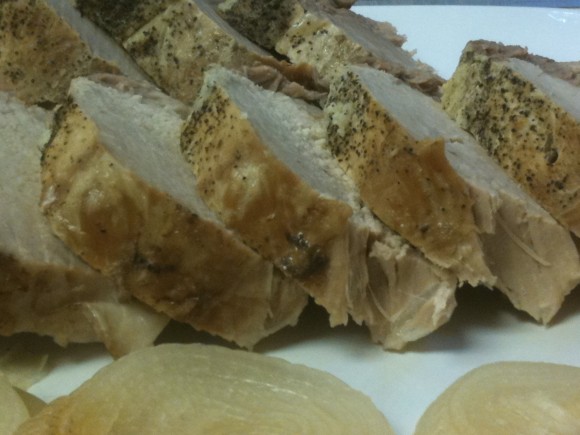 Tired of the same old family chicken or beef recipe?  Try this easy Pork Loin cooked in simple seasonings and read wine.
Our Sunday Dinners usually plan for a little food being left-over.  This pork loin will certainly be appreciated a couple of days into the week.  You may cook your pork loin in a crock pot or a large thermal conducting Dutch oven.  We use a large oval Magnalite(r) Dutch oven from the 70s, a well used wedding gift from college friend, Tommy LeBlanc.  Tommy's dad had an old style hardware store in New Iberia, Louisiana, and I am thankful of that fact every time I use this great piece of "hardware."
Ingredients
8 Pound – Pork Loin
1 – Large Onion
5 Cloves – Fresh Garlic
3 Tablespoons – Soy Sauce
1 Teaspoon – Salt
1 Teaspoon – Black Pepper
1 Teaspoon – Morton's Nature Seasoning Blend
2/3 Cup – Red Wine
2/3 Cup – Water
1 Tablespoons – Lee & Perrin Worcestershire Sauce
Preparation
Cut your pork loin in half, so it will fit appropriately in your crock pot or Dutch oven.  It will shrink slightly while cooking.
Place the rest of the ingredients in the crock pot or Dutch oven and layer the top with the onions cut into 1/2″ rings.
Cover and cook at a temperature just high enough to allow the juices to simmer.
Cook for 4 1/2 hours.
Serves 8 adults and a bunch of kids with plenty left over.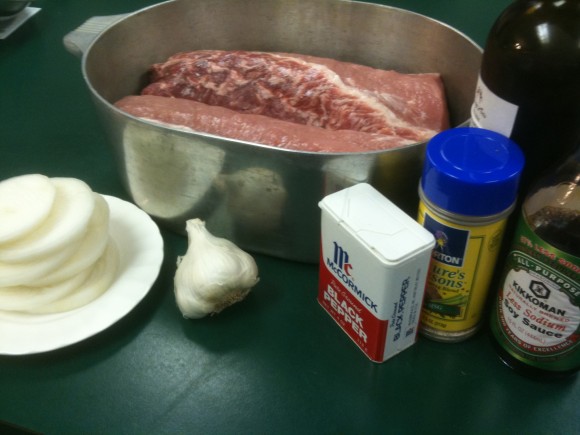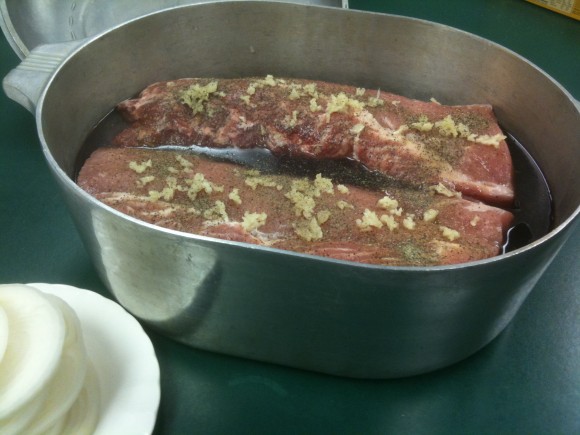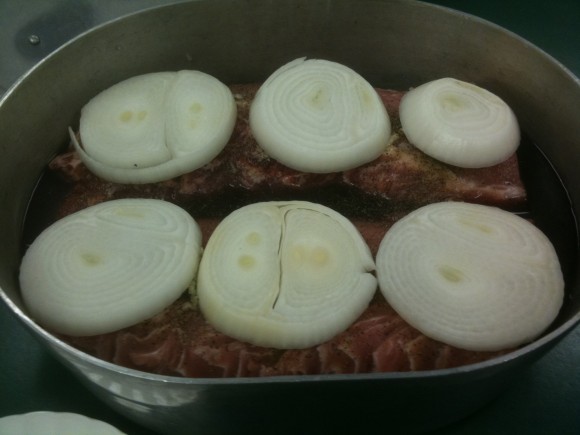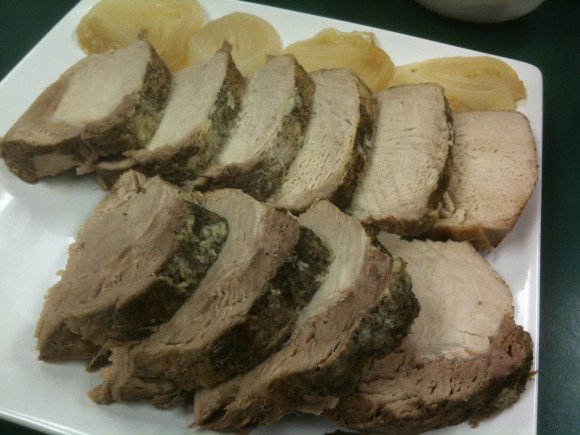 Suggested side dishes:  Fresh green beans and broccoli casserole.  (Yes that brocolli casserole recipe from that spiral bound cookbook you have had for years.)