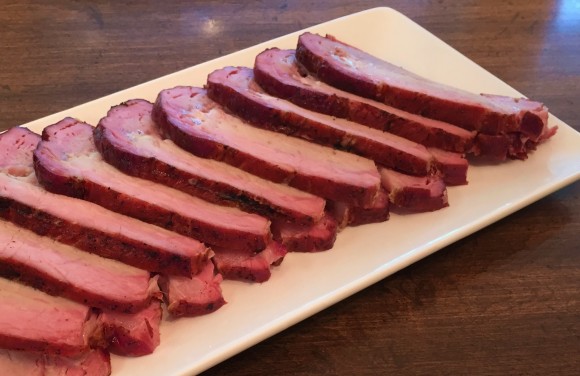 A great Sunday Dinner does not have to be complicated or elegant.  The main objective of 52 Sunday Dinners is to inspire you and your family to place your feet under the same table each Sunday evening.  It is to inspire fellowship and conversation.  This Smoked Pork Loin will certainly meet that objective.
Preparation is super easy!
Ingredients
5 Pound – Pork Loin (the images in this post are of 1/2 of a 9# pork loin)
Seasoning – I used a generous rub of John Henry's Texas Pig Rub. You may use another prepared rub or create your own.
Preparation
Smoke over coals of hardwood with a chamber temperature of 200 degrees for 6 – 8 hours. Turn if necessary for even cooking.
The outer bark will appear dark and crusty.  The inside will be tender and delicious. You will enjoy the natural smoke flavor that you cannot get from your gas grill.
If you are an internal temperature checker, seek an internal temperature of 155 degrees.
Allow the pork loin to rest 20 minutes and slice it to your liking.
Simple sides such as potato salad work well with this meal.
You may also slice the pork thin and serve the slices on your favorite buns with barbeque sauce for some unbelievable pork sandwiches.
Enjoy!