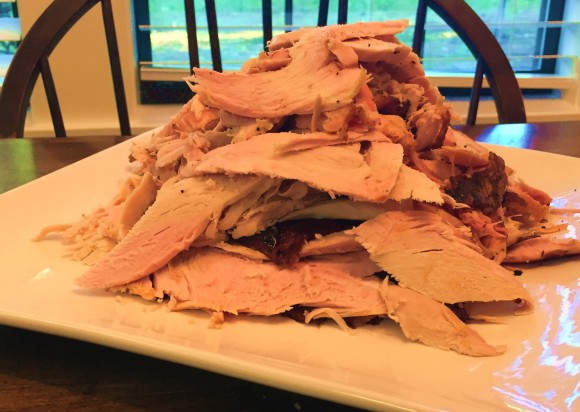 If your grocer stocks fresh Turkey Breasts, give this simple barbeque technique a try.  The flavor the turkey will absorb from the hardwood smoke will add amazing flavor to the turkey which is sometimes bland.  The slow cooking of the smoker will produce a tender and juicy dinner that your whole family will love.
Ingredients
Turkey Breasts from Two Turkeys Note: the breasts from one turkey will feed most households.  I smoked two, because it takes no more time, effort, charcoal, etc. and we love smoked turkey!
Seasoning – Used a generous rub of your favorite seasoning, such as Cajun seasoning, or prepare your own rub, based on your taste.
Preparation
Smoke over coals of hardwood with a chamber temperature of 215 degrees for 6 – 8 hours. Turn if necessary for even cooking.
The skin will appear brittle and crusty.  Mmmm I'll sample that while I'm carving it! The inside will be tender and delicious. You will enjoy the natural smoke flavor that you cannot get from your gas grill.
If you are an internal temperature checker, seek an internal temperature of 175 degrees.
Allow the turkey breasts to rest 20 minutes and slice them to your liking.
You may also slice the turkey thin and serve the slices on your favorite buns with barbeque sauce for some unbelievable turkey sandwiches.
Enjoy!
The breasts from two turkeys will feed a small army.  You can feed 15 – 20 adults comfortably.  You may also remove the meat from the bones and serve turkey leftovers for a couple of days.
Turkey salad made from this tender smoked meat will be awesome!  Use THIS RECIPE for turkey or chicken salad.