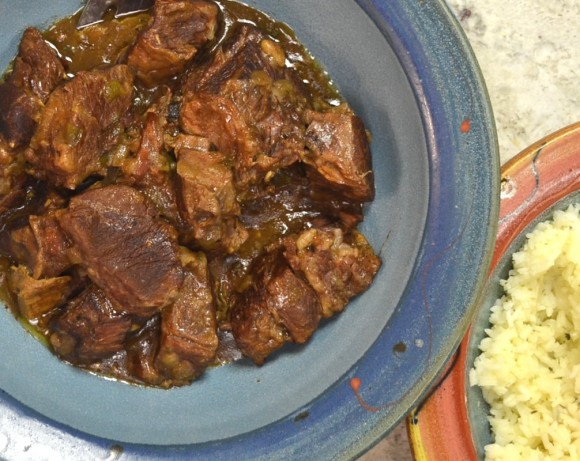 Oh Boy! You will love the rich flavor of this Beef Roast smothered in Mushroom Steak Sauce and it is very easy to prepare.  Prep early for a low and slow Sunday afternoon simmer and your family will be "richly rewarded" with a meal that is densely packed with flavor and will be fall-apart-tender. You may use any fairly lean, thick beef roast cut.  An excellent option is called "7 Steak" which has a bone in the shape of the number 7 in the section.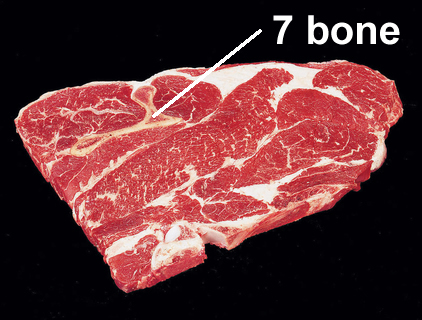 Ingredients
5 Pounds – Beef Roast such as 7 Bone Steak or Arm Roast, some fat trimmed
2 Tablespoons – Extra Virgin Olive Oil
4 Each – Small Onions, chopped
1 Each – Green Bell Pepper, chopped
8 Cloves – Garlic, minced
2 Each – Bay Leaves
3 Cans – Dawn Fresh by Georgio Mushroom Steak Sauce, 6 oz. each
1/4 Cup – Water
2 Teaspoons – Salt
1 Teaspoon – Ground Cumin
1 Teaspoon – Black Pepper
1.5 Teaspoons Tony's Cajun Seasoning
1.5 Tablespoons – Lee & Perrin Worcestershire Sauce
1/4 Cup – All Purpose Flour
Preparation
Trim some of the large sections of excess fat from the beef.
Sear beef roast in extra virgin olive oil in a large Dutch Oven.  Use medium to medium high heat.
Remove roast and set aside.
Saute onions until onions are clear. 
Add bell peppers and saute for an additional 5 minutes.
Add all purpose flour and 1/4 cup of water stirring to prevent the flour from making dumplings.
Add the remaining ingredients, bring to a boil, cover and set to a simmer.
Simmer for 6 hours, checking occasionally and adjusting range temperature and seasoning if required. 
Remove bay leaves and serve.
Separate beef from gravy for serving if desired.
Prepare with a healthy quantity of white rice or mashed potatoes.  The rich creamy gravy will be as much in demand as the beef!
Feeds 8 adults and a large bunch of truly loving grandkids.