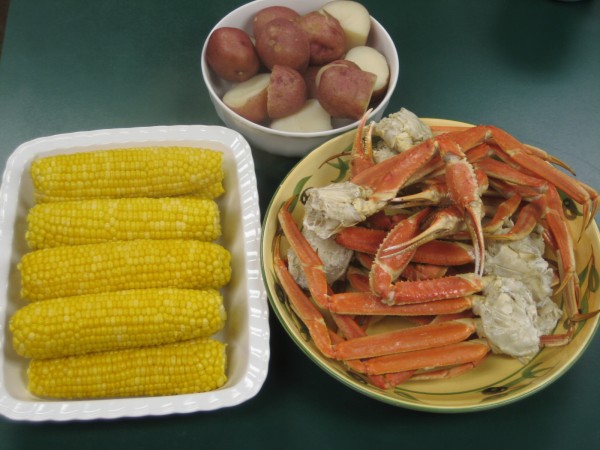 Snow Crab Legs are always a "crowd pleaser."  The preparation is straight forward and requires little reason to deviate.  Say "Crab Legs this Sunday" and you will have distant relatives claiming to be driving through your town on Sunday evening.
How could something this simple be so good?  I don't know, but every time Red Lobster conducts a national ad campaign on TV I find myself at the seafood counter buying a cart full of Snow Crab Legs.
Ingredients
10 Pounds –  Snow Crab Legs – period!
OK, add a little water in your steamer.
Preparation
Fill your steamer with 1″ of water.
Bring your water to a boil, then add Crab Legs and cover.
Steam Snow Crab Legs for 10 minutes.
Sides
Corn and Potatoes are equally easy.  You may opt to steam them just before the Crab Legs, or you may boil them.
If you boil the potatoes and ears of corn, add 1 teaspoon of salt to your pot of water.
Bring water to a boil.
Add Small New Potatoes, boil for 15 minutes.
Add Whole Ears of Corn the continue to boil for an additional 10 minutes.
Note: You may add crabboil seasoning to the water if you wish, but if your family includes young children, you may want to use the crabboil seasoning sparingly, or boil their veggies separately.
Cocktail Sauce
You may make Cocktail Sauce by combining 1 cup of ketchup, the juice from 1/4 of a lemon, 1/2 teaspoon of horseradish sauce and 1 teaspoon of Lee & Perrin's Worcestershire Sauce.
Melted Butter is favored by some.  See photo of small stainless steel container between steamers below.  It contains the butter that is receiving a slow melt-down.
Add garlic toast and a salad.  The Snow Crab Legs are usually so good, we have to make our family eat the salad!  Is that where the saying, "Just Say No To Crack" came from?
Optional Favorite:  We sometimes add fully cooked sausage to the crab legs with they are seamed.
Feeds eight (8) adults and a bunch of kids.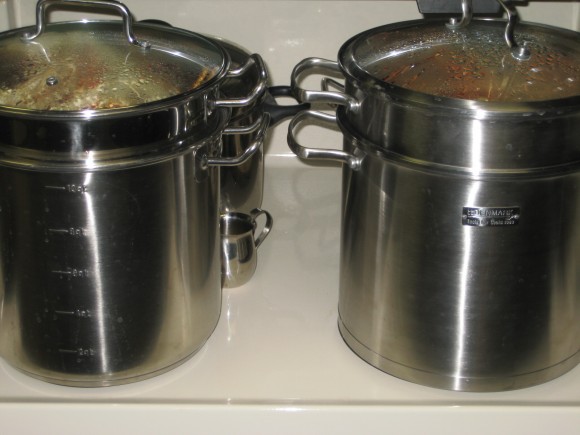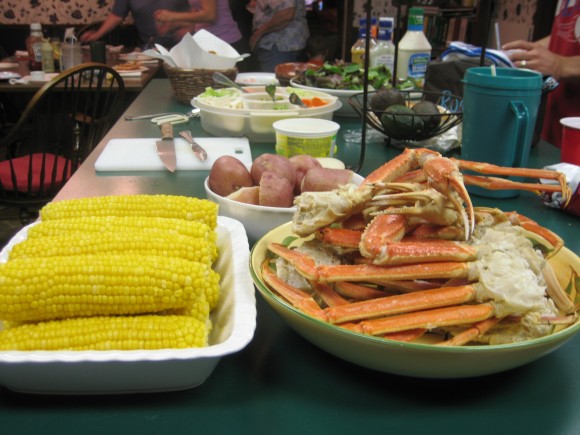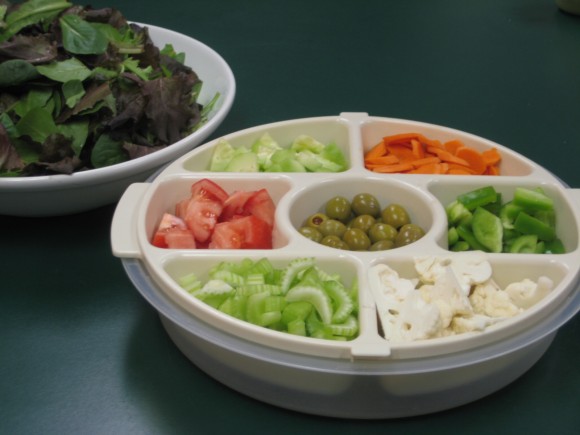 We'd love to have you comment below.  Let us know how your Snow Crab Leg Sunday Dinner turned-out.