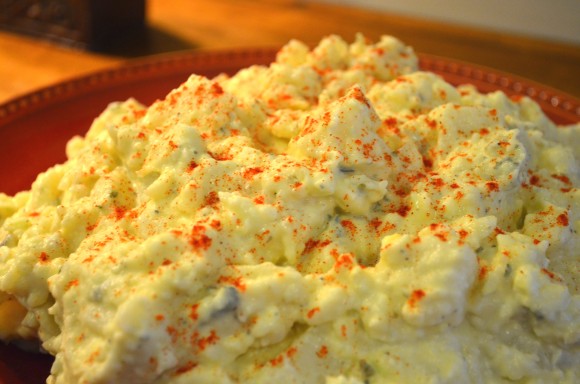 Potato Salad has been a staple for family gatherings for generations.  My mom made great potato salad.  My wife's mother and grandmothers made great potato salad.  If you want your relatives to yell, "Don't forget to bring your special potato salad!" for future family gatherings, try this simple recipe.
Ingredients
7 Pounds – Russet Potatoes, peeled and cut to 3/4″ cubes
6 Each – Large Eggs, hard boiled and chopped
5 Stalks – Celery, chopped fine
1/2 Cup – Dill Pickle Relish
3 Tablespoons – Mustard
1/2 Cup – Mayonnaise
1 Teaspoon – Salt
1 Teaspoon – Ground Pepper
1 Teaspoon – Granulated Garlic
1 Teaspoon – Morton's Nature's Seasoning
Paprika
Preparation
Cut potatoes and place in large Dutch oven, covering potatoes with cold water.
Bring potatoes to a boil and then simmer for 15 minutes.  Potatoes should be soft, but should not be easy to break apart.  Remember that they will continue to cook until they become cool.  You will also be incorporating the other ingredients with the potato cubes, so a little firm is better.
Rinse potatoes in cold water and drain.
As the potatoes are boiling, place the eggs in a saucepan with plenty of cold water.
Bring to a boil, remove from heat, cover for 12 minutes. Replace hot water with cold water, Peel and chop.
Blend potatoes, eggs and all the remaining ingredients in a large mixing bowl and combine ingredients with a large spoon, being careful to protect the potatoes.
Top with a sprinkle of Paprika.
Enjoy.
This side dish will last for 2 to 3 days if there is any left after dinner.
Feeds a small army, 15 – 20 people.  Great for pot luck suppers.