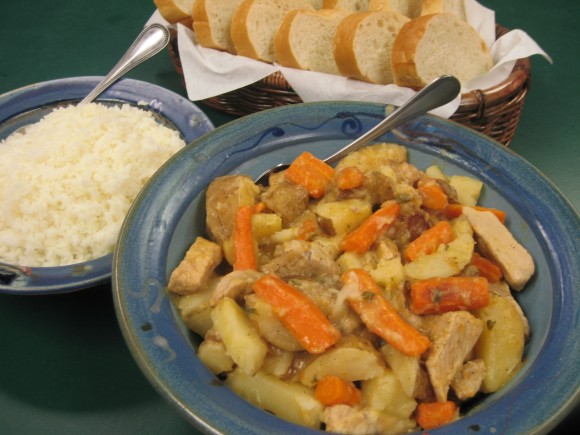 Oh, Boy!  This is a "crowd pleaser" inspired by my brother, Peter.  Peter is a great cook and at one time owned an exclusive restaurant in the Mississippi Delta.  He and I have made this recipe with pork loin, trimmed pork chops and even county style ribs, bones and all!   My mouth is watering just typing this recipe.
Ingredients
5 Pounds – Pork You may use pork loin, lean pork chops (trimmed) or country style ribs.
3 Tablespoons –  Butter
1/2 Cup – Fresh Parsley
1 Each – Large Onion, rough cut
2 Pounds – Fresh Carrots, rough cut
1 Teaspoon – Salt
1/2 Teaspoon – Pepper
2 Teaspoons –  Lee & Perrin's Worcestershore Sauce
4 Tablespoons – All Purpose Flour
1 Can – Campbell's Cream of Celery Soup
1/2 Cup – Water
3 Pounds – Potatoes, thoroughly cleaned, rough cut. Do not peel skin.
Preparation
Sweat onions in butter in a large dutch oven or crock pot until the onions become clear.
(Optional) You may seer the pork if you desire.  You can see the texture on some pieces of pork in the lower photo.
Add all remaining ingredients,except potatoes & parsley.
Turn stove to a medium setting until contents begin to boil.
Reduce to a low simmer and cover.  Cook for 2 hours, stirring occasionally
Add potatoes and parsley and cook for an additional hour, until potatoes soften.  The addition of the room temperature potatoes will require a little extra heat to get you back to a simmer quickly.
Season to taste and serve.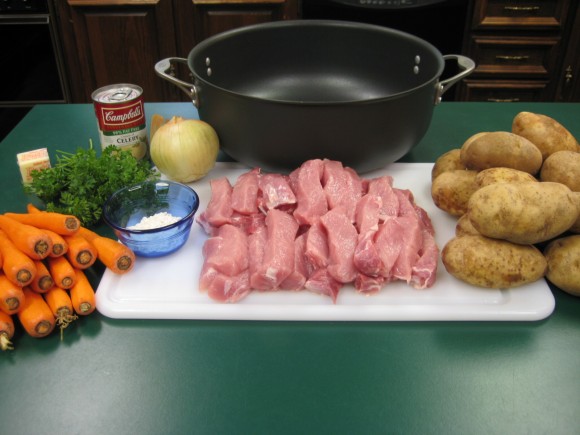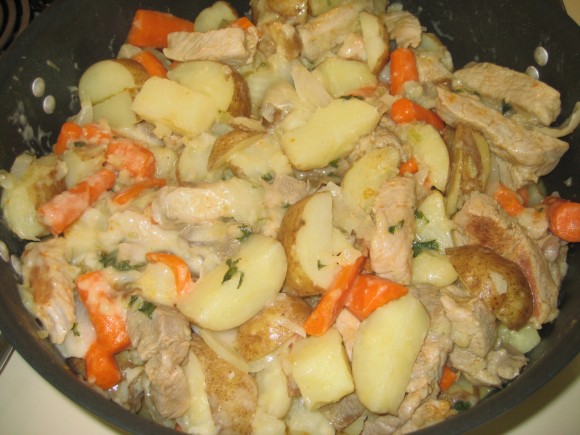 Feeds 8 adults and a bunch of pork-lovin' kids.
Serve with rice, bread and a salad.
* Left-overs will be just as good the next day.
*********************************
This is my brother's version.  His looks more delicious than mine.  I think he added a little Natchez, Mississippi "river water" to make more gravy … and baked it in his Mississippi made Viking oven.