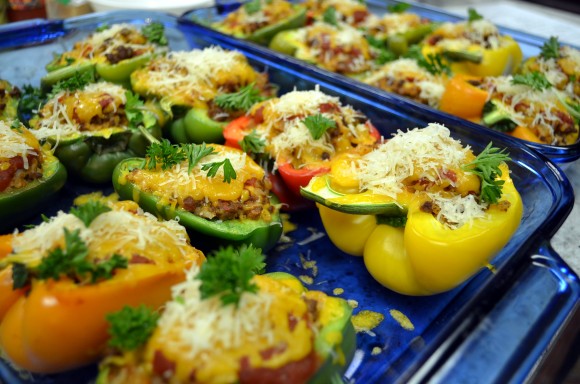 Stuffed Bell Peppers were often prepared and served at home by my mother, Mama Sara.  This version is slightly different.  The combination of flavors will be well worth the little extra effort to produce this satisfying meal.  This meal is a good opportunity to co-op with a junior chefs in your family.
Ingredients:
2.25 Pounds – Ground Beef – Lean – 90/10
1 Each – Medium Onion, finely chopped
1 Tablespoon – Extra Virgin Olive Oil
1 Tablespoon – Italian Seasoning
4 Cloves – Fresh Garlic – Minced
1 Tablespoon –  Salt
1 Teaspoon – Ground Black Pepper
9 Each –  Large Bell Pepper, any color, or a variety of colors, Cut into halves
4 Cups – Cooked Rice
1 Can 14.5 oz. Petite Diced Tomatoes
1 Can 14 oz – Tomato Sauce
1 Teaspoon – Lee & Perrin Worcestershire Sauce
3 Cups – Cheddar Cheese, grated
1 Cup –  Parmigiano Cheese, finely grated
1/2 Cup –  Fresh Parsley
Preparation
In a large skillet, brown the ground beef on medium heat, as you saute the onions along with the minced garlic, salt, pepper and Italian seasoning.  
Add all of the can of diced tomatoes and 1/2 of a 14 oz. can of tomato sauce. 
Add the per-prepared white rice and combine with the seasoned beef mixture. 
Stuff the peppers arranged in two large casserole pans, add a spoonful of tomato sauce to the top of each assembly.
Bake uncovered at 375 degrees for 30 minutes.
Remove and add grated cheddar cheese and return to oven  until cheddar cheese melts.
Remove and add grated Parmesan cheese and fresh parsley.

Serves 10 adults and a bunch of kids that thought bell peppers were just invented for salads and fajitas.