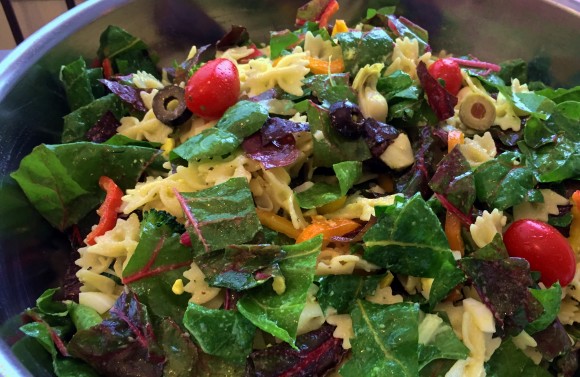 How about something light and fun for dinner this Sunday?  Stir up a Tupperware(R) container of this delicious Swiss Chard Pasta Salad, a cooler full of soft drinks and head to the park, the beach or the local fishing hole and make fun your first priority.  Eating can be a minor agenda item.  If you are a stranger to Swiss Chard, visit your local organic grocer. It is a flavorful green that can be cooked or eaten raw.  The olive oil, lemon juice and seasoning will bring out the natural flavor of the rainbow chard.
Ingredients
4 bunches – Fresh Rainbow Chard
16 Ounces –  Dry Mini Bow-tie pasta
1/2 Cup – Extra Virgin Olive Oil
2 Each – Medium Lemons
2 Teaspoons – Salt
1 Teaspoon – Pepper
1 Teaspoon – Dry Garlic Powder
1 Teaspoon – Italian Seasoning
4 Each –  Large Eggs, chopped
10 Ounces – Grape Tomatoes
1/2 Pound – Fresh Broccoli. chopped fine
12 Ounces – Marinated Artichoke Hearts
8 Ounces – Black Olives, sliced
4 Ounces – Green Olives, sliced
6 Each – Mini Peppers, sliced (or 1 yellow bell pepper, sliced)
Preparation
Prepare pasta to al dente according to package instructions.
Clean chard and remove stems.
Save stems to pickle or simply saute in bacon grease or butter for later.
Cut chard into 1″ squares.
Hard boil the 4 eggs and chop.
Combine all ingredients and refrigerate for 4 – 24 hours before serving.
Take the plastic bowls and forks.  This single course meal feeds a family of 6 adults and a bunch of children that will have to stop fishing to come to the picnic area.