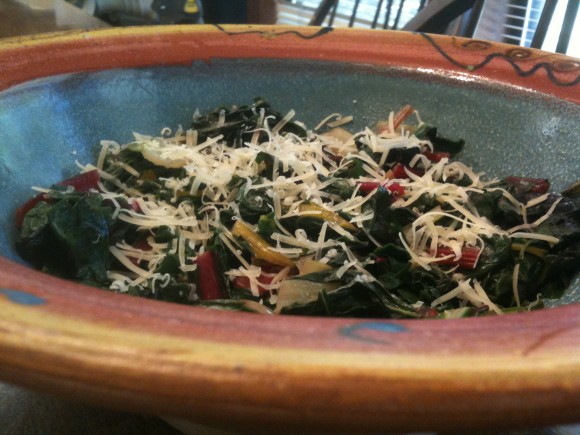 There is a reason we call call Swiss Chard "The Valedictorian of Vegetables."  It is high in nutrients and taste great!  Swiss Chard is very simple to prepare and can be grown in many parts of the US almost year round.  My parents often have Swiss Chard growing in their postage stamp sized garden, and as I write this recipe it is growing in their yard in Lake Village, Arkansas.
I found some beautiful multi-colored Swiss Chard at the local farmer's market this  morning, but it is also available at most organic grocery stores.
Ingredients
1 Large Bunch – Swiss Chard
1 Tablespoon – Olive Oil
1/2 Tablespoon – Butter
1 – Garlic Clove, Minced
1 Teaspoon – Salt
1 oz. Grated Parmesan Cheese
Preparation
Clean leaves
Cut stems from base & retain them
Saute stems in olive oil, butter, minced garlic and salt for 5 minutes on low heat in a large skillet.
Cut leaves into 1″ strips add to the stems and cook everything for 5 more minutes at low heat, until leaves are slightly wilted.
Remove and add add Parmesan cheese to serve.
Similar to spinach and other greens, Swiss Chard shrinks considerably when cooked.  Serves 4 adults as a side dish.
The shrinkage was such that it was dwarfed by my David Hendley serving bowl from Old Farmhouse Pottery, but the colors match very well.  Next time, buy more Swiss Chard!