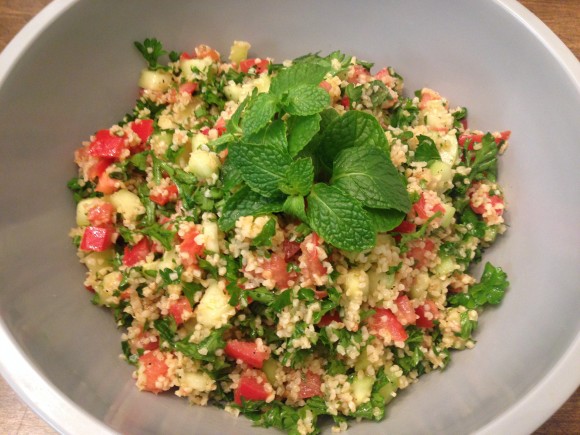 I prepare a salad for practically every Sunday Dinner of the year.   Often it is a variation of a green tossed salad.  See navigation tab above.  This Greek Tabouleh Salad is always well received and is appreciate with any Middle Eastern meal.  It is busting with the simple flavors of olive oil, mint and garlic.
Ingredients
1.5 Cups – Medium Grind Bulgar Wheat
2 Each – Large Lemons
3/4 Cup – Extra Virgin Olive Oil
1 Tablespoon – Salt
1.5 Teaspoons – Finely Ground Black Pepper
1 Each – Large Bunch of Fresh Curly Parsley, leaves removed and slightly chopped
1 Cup – Fresh Mint Leaves, slightly chopped
2 Each – Cucumbers, chopped
4 Each – Small Tomatoes, chopped
6 Cloves – Fresh Garlic, minced
1/2 Cup – Onions, sliced (optional)
Preparation
Soak the wheat for 8 hours, or boil it for 30 minutes and drain excess water using a wire strainer.  Allow to cool if boiled.
In a large mixing bowl, zest the lemons, then add the juice.
Add the remaining ingredients and mix.
Chill before serving.