This meal provides a SOLID chili that everyone will enjoy and allows them to add all the "fixins" to suit their personal taste.  This recipe is easy (2 on a scale of 1 to 10), uses a few canned ingredients, but is guaranteed to be a big hit with your family, sports gathering, church function or tailgate.
Ingredients
4 Pounds – Lean Ground Beef, 93/7 (93% lean meat, 7% fat)
2 Each – Large Onions, chopped
4 Cans – Petite Diced Tomatoes (Use 14.5 oz. cans for a total of 58 oz.)
1 Can –  Corn, 15 oz.
1 Cup –  Taco Seasoning, such as Tone's Taco Seasoning without MSG – see photo below
8 Cloves – Fresh Garlic, minced
1 Can –  Black Beans, 15oz., rinsed
1 Can – Great Northern White Beans, 15 oz., rinsed
1 Can – Ranch Style Beans, 15 oz.
1/2 Cup – Masa Corn Flour, or All Purpose Wheat Based Flour
Additional Ingredients/Toppings
1 Large – Bag of Original Frito(r) Corn Chips
2 Medium – Sweet Potatoes, cubed to sugar cube size
1 Small – White Onion, diced fine
10 Each –  Green Onions, chopped into 1/8″ rings
1 Package – Oyster Crackers
2 Each – Large Avocados, cubed
1 Cup – Fresh Cilantro Leaves
1.5 Cups –  Fresh Grated Cheddar Cheese
1.5 Cups –  Fresh Grated Monterrey Jack Cheese
Optional – 2 Cups – Brown Rice, cooked per package instructions
Optional –  1 Cup – Sliced Jalapenos- Oh Boy!
Preparation
Everything except the rice and sweet potatoes may be cooked in a large Dutch oven.
Brown the meat and onions until the meet is no longer red, and the onions become clear.
Add diced tomatoes and Tone's Taco Seasoning.
Cover and cook on medium heat, stirring frequently until tomatoes begin to break-down, approximately 30 minutes.
Add corn, all three cans of beans and masa or flour.
You may either boil the sweet potatoes in water for 15 minutes, and serve as a separate ingredient, or toss them in the Dutch oven with everything else now.
Cover and cook for an additional 15 minutes until chili becomes rich and thick.
Serve this Sunday Dinner buffet style.  Let every family member or guest customize their chili bowl to make it JUST RIGHT for THEM.
OK I refrained from cooking the sweet potatoes in with the meat and beans, but everyone actually tried and liked them, so cooking them with the other ingredients would be fine.
Note: The amount of Tone's Taco Seasoning is appropriate for families with kids.  If you are making this for your Saturday Night man's poker club, double the Tone's Taco Seasoning.  Otherwise individuals can heat things up with the sliced jalapenos.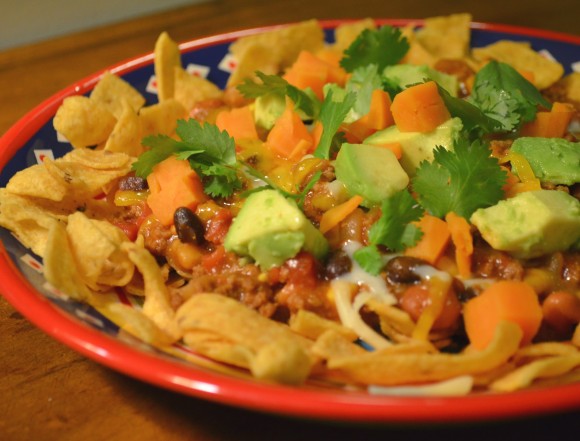 This meal was completed with an apple pie ala mode prepared by one of my favorite (and one of the cutest) pastry chefs.  Can you tell she is proud?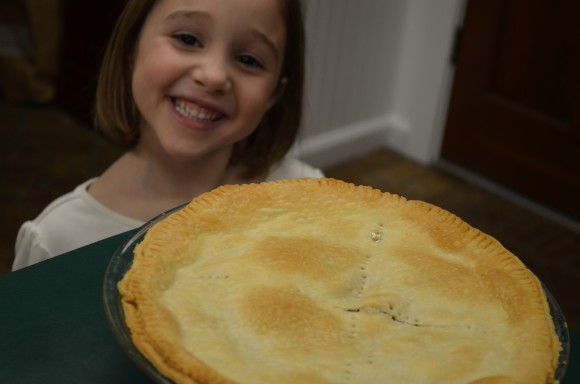 Click HERE for our home-made pie recipe.