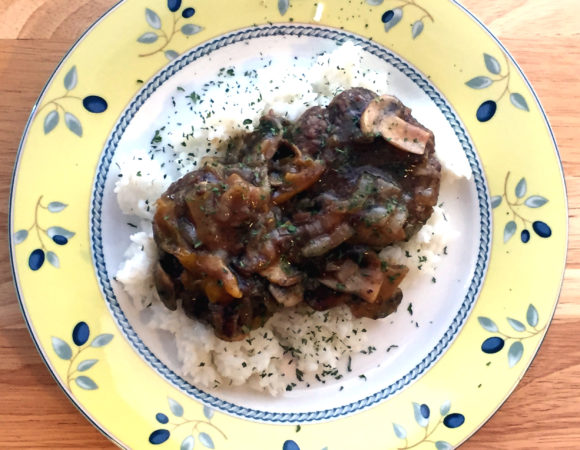 Salisbury Steak is a term often spoken in the school cafeteria line.  I tried it a time or two, but I don't remember it being especially good. Then there is the Salisbury Steak entree in a frozen dinner.
No comment needed.
Recently I attended a catered dinner and they served Salisbury Steak.  It was apparently cooked properly using quality ingredients.  It tasted great!  This is my attempt to present you with my version of what was served at the catered dinner.
Beef Pattie Ingredients
5 Pounds – Lean Ground Chuck
2 Each – Large Eggs
1 Tablespoon – Lee & Perrins W

orcestershire

Sauce
1 Tablespoon – Onion Powder
2 Teaspoons – Salt
2 Teaspoons – Black Pepper
1 Cup – Italian Breadcrumbs
Sauce Ingredients
1 Ounce – Fresh Mushrooms, sliced
1 Large – White Onion, sliced
1/2 Each – Yellow Bell Pepper, sliced
1 Each – 6 Ounce Can Dawn Fresh Georgio Mushroom Sauce
2 Teaspoons – Salt
1/4 Cup – All Purpose Flour
2 Cups – Water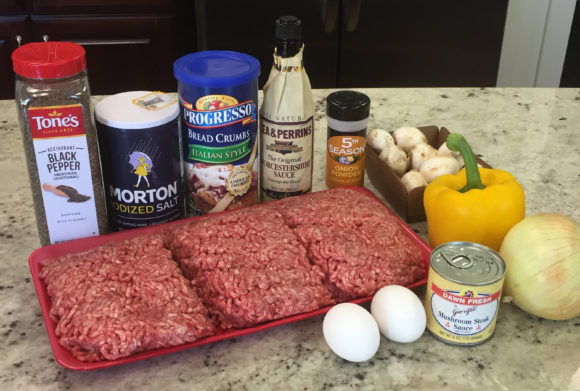 Preparation
Combine Meat Pattie Ingredients in a large mixing bowl and use your hands to mix into a uniform mixture.
Form into patties that are approximately 1/4 to 1/3 pound each.  This five pounds of beef made twenty (20) Salisbury Steaks.
Brown in a skillet on medium high heat, removing each batch to drain.
Saute the onions and bell peppers in the oil from the lean ground chuck until the onions start to become clear.
Add the other sauce ingredients, including the fresh mushrooms. Stir until the flour is thick and rich.
Add a layer of meat patties and continue to cook each batch for 5 – 10 minutes. 
The top will speed cooking time.
Collect the fully cooked patties and prepare to serve.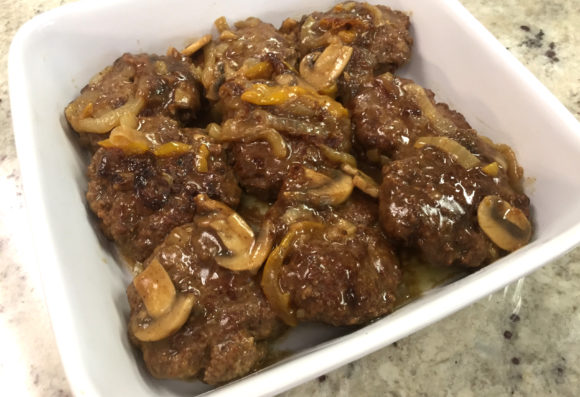 These 20 patties will serve approximately 10 adults and a bunch of kids that will leave the mushrooms on the rim of the plate, then lick the delicious gravy from the plate.
Add rice or mashed potatoes for the perfect foundation.