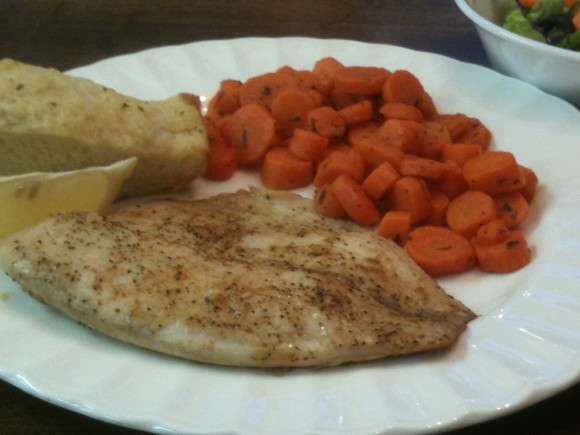 Simple, Quick, Easy & Elegant.  I'll admit I enjoy cooking.  So quick preparation on Sunday afternoon is not always an advantage.  If you LOVE cooking as much as I do, this Sunday Dinner will deprive you of some of the pleasure.  It will take just a few minutes to prepare.  Start with fresh, not frozen, Tilapia, 1/2 pound per person from your respected fish market or grocer.
Ingredients
3 Pounds – Fresh Tilapia
1 Tablespoon – Extra Virgin Olive Oil
Old Bay Seasoning
Morton Nature's Seasoning
1 Each – Large Lemon, cut into 8 wedges
Preparation
Place the Tilapia in a large skillet with a portion of the olive oil.
Season generously according to photo, with Old Bay Seasoning and Morton Nature's Seasoning.
Cover and cook on low to medium/low heat until the fish is flaky, approximately six minutes on each side.
Remember Tilapia is a very mild, non fishy flavored fish, so it will rely on your seasoning to bring out the flavor.

Carrot Side Dish
Ingredients
2 Pounds –  Fresh Carrots
1 1/2 Tablespoon –  Stick Butter
Morton Nature's Seasoning
1 Teaspoon –  Parsley Flakes, fresh or dried
Preparation
Peel & Cut
Add Carrots, Butter, Parsley and Nature's Seasoning to covered skillet.
Cook on low heat for 20 minutes.
Comments
Add garlic bread or rolls and your favorite salad.  See salad section.  Fish is often served with rice, steamed vegetable or potatoes.  The orange color of the carrots give the plate a more appealing appearance.
This Sunday Dinner is so healthy I have to offset it with a "healthy" portion of Blue Bell Ice Cream.  Enjoy!
This meal will serve eight adults and a bunch of kids.