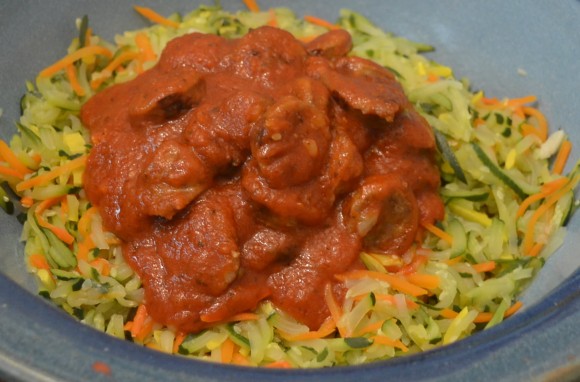 52 Sunday Dinners is all about experimenting with different food concepts.  Try this interesting twist on traditional Italian spaghetti pasta.  Simply replace standard spaghetti noodles with spiral cut zucchini, yellow squash and carrots.  You may prepare it with meat balls, or Italian sausage and top with your favorite marinara sauce or even pesto sauce.  This was not prepared to be gluten free, but should qualify.
Ingredients:
6 Each – Medium sized Italian Zucchini Squash
2 Each – Yellow Squash
3 Each – Large Carrots
24 oz. – Italian Marinara Sauce
12 – 16 Ounces – Mild Italian Sausage Links
Parmesan Cheese
Preparation
Prepare the Italian sausage by cooking the links in a skillet or on a grille.  Then slice the links into discs and continue to cook in skillet.
Add sauce to the sausage and simmer.
As the sausage continues to cook, julienne cut the zucchini, yellow squash and carrots into thin shoestring strips.  I use my trusty tabletop Saladmaster slicer.
If you do not have a Saladmaster slicer, you might try another tool such as the handheld Veggetti spiral cutter.
This is a great opportunity to get a "little" help in the kitchen.  Let the helper use the crank and practice safety around the sharp blades.
Boil the vegetables just as you would boil noodles, approximately 10-12 minutes.  When they become tender, remove them and thoroughly drain them.  They will release quite a bit of water after removed from the pot.
Top with Italian sausage or meat balls and your favorite sauce.
Add a generous portion of Parmesan cheese and enjoy!
Feeds 8 adults and a bunch of kids that won't eat zucchini.