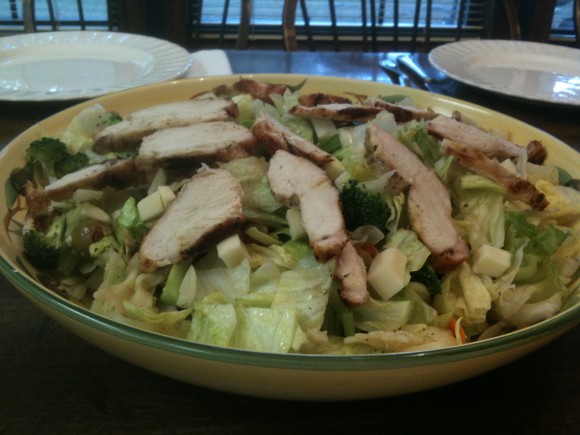 If you are a frequent reader of 52SundayDinners.com you know that our family LOVES salads.  Most are light and serve to complement the main course.  This salad is the whole meal.
Ingredients
3 Large – Fresh Chicken Breasts (No frozen bird parts, please)
1 Head – Iceburg Lettuce, Quartered and Cut Into 1/2 in Strips
3 Cups – Grape Tomatoes
1 Cup – Green Salad Olives
2 Cups –  Fresh Broccoli, Chopped
5 Whole – Carrots, Sliced Thin
1 Cup – Celery Chopped Thin
1 Whole – Bell Pepper, Any Color, Cut Into Thin Ribbons
12 Each – Fresh Basil Leaves, Cut Into Thin Ribbons
1 Cup – Fresh Mozzarella Cheese, Cubed
1/2 Cup – Italian Salad Dressing (Use your favorite or see my DRESSING RECIPE)
1  Teaspoon –  Balsamic Vinegar
1 Teaspoon – Salt
1 Cup – Pitted Black Olives (optional)
1 Cup –  Fresh Asparagus Tips
1 Cup –  Pickled Asparagus Hearts, Quartered
Preparation
Begin the process by grilling three large chicken breasts on your charcoal or gas grille.  Season generously with your favorite seasoning such as Morton's Nature's Seasoning or Tony Chachere's Spices N' Herb Seasoning if you prefer your chicken spicy.
Heat grille to 350 degrees and cook chicken 25 minutes on each side.
Slice chicken into 1/4″ sections.
Combine all ingredients and toss.
Refrigerate 30 minutes before serving.
Other Instructions
Combine with a simple appetizer or just gourmet cheese and crackers.
If your kids/grandkids are not into salads, fix an extra chicken breast or two.  Slice chicken thinly and serve on 2″ square dinner rolls with 1/4 piece of Sliced American Cheese.
Feeds 8 adults and a house full of hungry kids, that will love salads one day .