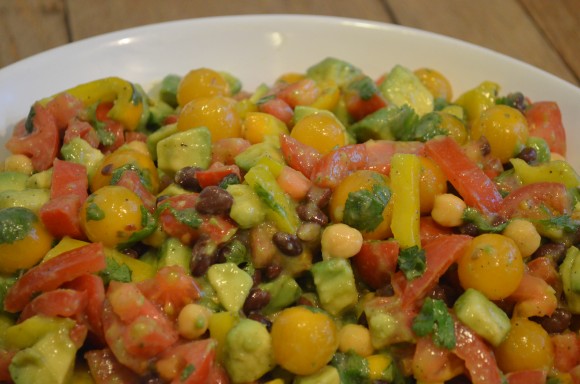 This recipe is a variation on my Avocado / Tomato Salad with Cilantro & Lime recipe.
Try this variation of my popular Avocado Salad with added protein of black beans and chick peas.
Ingredients
8 Ea – Roma Tomatoes, diced
2 Ea – Limes, juiced
1 Cup – Cilantro, chopped
4 Ea – Large Avocados, diced
2 Tablespoons – Extra Virgin Olive Oil
1 Teaspoon – Garlic Powder, or 1 Clove of Fresh Garlic
2 teaspoons Salt and
1 Teaspoon of Pepper
1 Ea –  Yellow Bell Pepper, cut into short ribbons
1/2  15 Oz. Can – Black Beans, Drained
1/2  16 Oz. Can – Garbanzos Chickpeas
10.5 Ounces – Yellow Grape Tomatoes
Preparation
Chop ingredients. Season to taste. Chill, covered in the refrigerator for 4-24 hours before serving. If you plan to refrigerate in the longer time frame, cut the Avocados just prior to serving, otherwise cut the avocado first, adding lime as soon as possible and leaving pits in the mixing bowl.  This will help preserve the color of the avocados, and prevent browning.
You may substitute 1 clove of minced garlic for the Garlic Powder, at a rate of 1 clove per 8 servings.
Just thinking about that garlic, cilantro and lime makes my mouth water.